Timezone: EST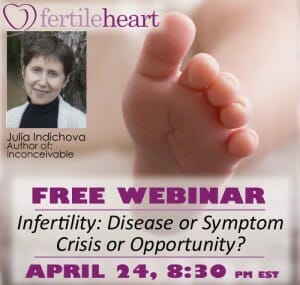 Infertility: Disease or Symptom, Crisis or Opportunity?
In the wake of the recent tragic events, how can we not ask:  what is the Boston devastation asking of aspiring parents? Can infertility be a wake up call to rouse the peace & health activist within us? Or are we hopeless victims of disease? Which choice would serve best the not-yet-born generations?
April 24th, 2013 8:30 to 9:30PM EST (New York Time) Free Teleconfence/Webinar with FertileHeart.com Founder, Julia Indichova
Infertility Awareness Week, initiated by Resolve, a consumer advocacy group,  is meant to raise awareness about infertility as a disease that affects 7. 3 million people in the US, advocating for legislature that will allow more people to afford IVF treatments.
With this massive affected population, and a growing infertility industry worldwide, a deeper understanding of the root causes of reproductive issues is central to the unfolding story of assisted reproduction and the role it plays in shaping our healthcare, medical research and the allocation of government funds for the treatment of fertility related issues.
In full support of a public dialogue, Fertile Heart founder, Julia Indichova says,  "Increased awareness must begin with addressing the inherent challenges linked to a catchall diagnosis of infertility."
Infertility is defined as the inability to conceive after a year of unprotected, "well-timed" intercourse. Women over 35 are advised to seek medical testing after six month of attempting pregnancy.
Although the threat of childlessness is for many couples indeed as devastating as a life-threatening disease, infertility is not a disease in the usual sense.
While there may be particular barriers to conception and a full term pregnancy that may be medically resolvable, such as fibroids, endometriosis, low sperm count, or a hormonal imbalance, the catchall diagnosis of infertility usually refers to the expected course of events not happening within a specific timeframe.
"In close to two decades of counseling and teaching, " says Indichova, "I found that the  missing pieces of the puzzle were sometimes rooted in physical causes such as undiagnosed Celiac disease or a latent nutritional deficiency. These imbalances would allow individuals to function but would impede the more challenging task of implantation, gestation and birth.
As for the emotional pieces, motherhood and pregnancy are highly emotionally charged experiences.  Guiding wannabe moms on the baby-making-road I've observed that reproductive challenges are often linked to unresolved inner conflicts, memory of sexual abuse, birth trauma or other issues imprinted in our tissues.
 The attempt to side step such warning signals by revving up our ovaries with synthetic stimulants might not only further disrupt endocrine function, it can rob aspiring parents of the opportunity for healing that comes with every health crisis. "
The April 24, webinar aims to honor Infertility Awareness Week with a more meaningful dialogue about the root causes of infertility related challenges such as:
Adrenal health
Weight issues
Blood Sugar imbalance
Chronic inflammation
Celiac disease
Digestion & elimination problems leading to poor nutrient absorption
Environmental toxins
Long term birth control use
Birth trauma
Marital conflict
Unresolved conflicts about pregnancy or birth
Guilt feelings linked to past pregnancy related choices
Says Indichova, "Among the women and couples who have attended Fertile Heart mind body workshops the average length of trying to conceive has been 3 years involving an average of 3 failed mainstream medical treatments.  And even in this population I have witnessed women with as many as 14 failed treatment cycles conceive naturally after less than a few months of a physical and emotional renewal."  (See a case history of one of Indichova's client at this link- http://www.fertileheart.com/5-failed-ivfs-4-cancelled-ivfs-6-failed-iuis-a-fertile-heart-baby-a-story-of-hope/)
Participants are welcome to email Fertile Heart at info@FertileHeart.com  with questions prior to the call, whether they have to do with food, diagnosis, age, or prior treatment.   Participants are also invited to  indicate whether or not Julia can address you and engage with them directly during the call.
Connecting:
You will be making a long distance call, so having a good long distance plan is useful. Landline is always preferred but you are also welcome to dial in through Skype.
Category: