Fertility Foods: The One Berry You Must Not Miss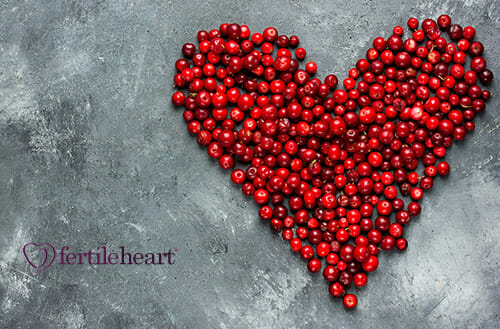 The health and fertility boosting properties of berries rich in antioxidant and fiber are well known.
The one fruit that doesn't usually end up on our plates until Thanksgiving contains a lesser known, but immensely powerful antioxidant called ellagic acid. Ellagic acid can support both male and female fertility in a number of ways.
It helps with the body's anti-inflammatory response. Since inflammation is often the underlying cause of a host of chronic health issues, this is good news for all of us. Less inflammation also leads to a uterus more receptive to implantation.
The high level of antioxidants help reverse male factor issues, by raising the number of well-shaped sperm or in medicalese: improving morphology
High fiber content support the body's cleansing process important for overall levels of health and essential for such fertility challenges as endometriosis
These are all good reasons for dropping a few cranberries into your morning oatmeal.
½ cup fresh Cranberries
¼ cup extra-virgin Olive Oil
1 teaspoons Vinegar (Apple Cider or Balsamic)
½ teaspoon fresh Rosemary leaves (not chopped)
1 teaspoon Honey
½ teaspoon Salt
½ teaspoon Garlic
¼ – ½ teaspoon freshly ground Pepper
Place Cranberries, vinegar, garlic, honey,  salt and pepper in food processor.
Blend until almost smooth, add Olive Oil slowly while on.
Add Rosemary. Mix gently.
Store in refrigerator for 20 minutes.
Serve on any salad.