Dancing Into Motherhood
A Free Chat
with Author Julia Indichova
Thursday May 9, 2019
8:00PM EDT (NY)
You may walk away from our Dancing Into Motherhood FREE CHAT, with some tips for beating the Mother's Day blues, but what we're really after is much more than that.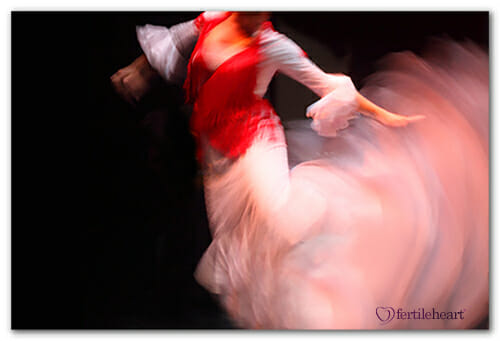 What I intend to do in this FREE CHAT is:
Give you a taste of your own power to turn Mother's Day and every day into an opportunity to mother yourself in a way you might never have done before.
Give you a taste of how the Fertile Heart practice helps you identify what's blocking you on a physical, emotional, and spiritual level from either conceiving a biological child or birthing a family.
Give you a taste of the incredible opportunity for healing that comes with this life crisis.
Whether we're on the road of spontaneous conception, IVF, adoption or any other family birthing path, how do we turn it into an energizing force in our lives?


And as always on the FREE CHAT you are most welcome to bring in any questions, whether they have to do with food, or supplements or anything else that's rising up for you. If you've already taken the Intro Series, and you have questions about your practice, I'd be happy to work things out with you on the call.
Whether the child you love is in your arms or on the way, come celebrate with me the beautiful mother you are!
Julia
Dear Julia,
My husband and I had been trying to have a baby for 7 years, without success. After multiple failed IVF cycles, a few miscarriages we were quite tired and without hope. About that time I read your book, then attended your calls.
I loved these calls so much, for the first time somebody approached infertility from such a deeper level. I did imagery…and I loved it… The funny thing is, my relationship with my husband began to improve as well (we were quite on the edge because of our inability to conceive) and generally I started looking at life with new eyes. Then we had what we decided to be our last IVF – and I got pregnant and was able to carry my baby to term. We became parents to our lovely boy. He was waiting for us to heal. And when we had healed, he happily arrived. Isn't it amazing? …
Thank you Julia for being a catalyst for this journey for me! :-)
Sending you love! :-)  Gosia
Dear Julia,
It's official! I'm at 1030 HCG! I've NEVER been pregnant before so it's a total first at 43!
I did the visualizations from the Fertile Heart Imagery CD's. I am so excited to keep on doing everything!
Thank you for encouraging me to attend the workshop the second time and also with my husband. As you know we conceived a few weeks after attending the second workshop. Second time for me and first for my husband. I realized afterward that I was doing the work but wasn't fully committed to what I wanted and to myself. Now, I get to do my next chapter of Fertile Heart. I'm not going anywhere now that I am pregnant.
I need you and Fertile Heart community and the work way too much. Julia, thank you for giving me the gift of your knowledge and heart and generosity and humanity!!!. I am carrying that with me!
Love Suzanne
And 5 months later Suzanne wrote:  "We did hypno-birthing and a lot of other stuff and I keep going back to the Body Truth CD. It's the best!!"