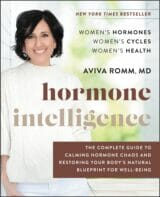 Hormone Intelligence
By Aviva Romm MD, HarperOne, 2021
The Complete Guide to Calming Hormone Chaos and Restoring Your Body's Natural Blueprint for Well-Being
Expecting Adam: A True Story of Birth, Rebirth, and Everyday Magic
By Martha Beck, Harmony, 2011
Expecting Adam is an autobiographical tale of an academically oriented Harvard couple who conceive a baby with Down's syndrome and decide to carry him to term. Despite everything Martha Beck and her husband John know about themselves and their belief system, when Martha gets accidentally pregnant and the fetus is discovered to have Down's syndrome, the Becks find they cannot even consider abortion. The presence of the fetus that they each, privately, believe is a familiar being named Adam is too strong. As Martha's terribly difficult pregnancy progresses, odd coincidences and paranormal experiences begin to occur for both Martha and John, though for months they don't share them with each other. Martha's pregnancy and Adam (once born) become the catalyst for tremendous life changes for the Becks. – Ericka Lutz
Natural Hormone Replacement For Women Over 45: The Safe and Natural Menopause Treatment Alternative
By Jonathan V. Wright, M.D. & John Morgenthaler, Smart Publications, 1997
Written by a clinician with extensive experience with fertility and hormonal issues, this book offers compelling evidence that nutritional adjustments and natural hormone replacement is a preferred alternative to synthetic drugs.
Broken Open
By Elizabeth Lesser, Villard, 2005
If you haven't yet been "broken open" this book can help get you started. And it can do so in the most pleasurable, poignant way. Reading it is like hanging out with a really smart and funny friend who has had a lot of amazing experiences in her life. Most important, someone who's been willing to learn, learn, learn from them all, and is now without the slightest hesitation willing to pass on what she discovered to you. An eminently readable book.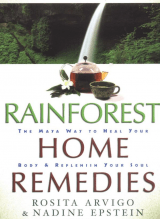 Rainforest Home Remedies: The Maya Way to Heal Your Body and Replenish Your Soul
By Rosita Arvigo & Nadine Epstein, Harper San Francisco, 2001
If you are wrestling with endometriosis, fibroids, irregular cycles, painful periods etc. you will find Dr. Arvigo's information on Mayan uterine massage especially helpful. This is a terrific resource offering natural remedies for a wide range of difficulties. Lots of inspiring stories!
$11.85