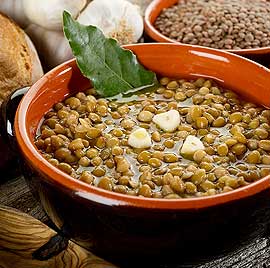 4 Reasons lentils are supreme fertility foods
This has got to be the best lentil soup you've ever had & here are just 3 of the many reasons lentils make supremely healthy, fertility friendly meals:
Lentils are a wonderful source of folate, an essential immune enhancing nutrients as well as a key nutrient for your baby's brain and spinal cord development
A Great source of magnesium – an alkalizing, hydrating nutrient that helps relax your nervous system by aiding in the production of serotonin,
Lentils energize you by replenishing your iron supply, which is especially useful for menstruating, pregnant and lactating women
They have a hormone balancing effect by stabilizing blood sugar levels
Recipe
There are many types of lentils: brown, red, french(green), regular. I prefer French Green, I have only seen these in health food stores, so they might be hard to get. They are smaller and firmer and maintain there shape. You should experiment with different types of lentils. The cooking method is the same, except the time needed to cook will vary.
Ingredients:
– 4 Med-Lg Onions diced (4 cups)
– 2-4 teaspoon chopped Garlic
– 1 Tablespoon Olive Oil
– 1 Tablespoon Sweet Paprika
– 1 Tablespoon Salt
– 1 pound Lentils
– 6 Cups Water
Directions:
– In a large pot add onions, garlic and oil
– Cook with medium heat stirring occasionally. Be careful to not let the onions stick and burn.
– Cook until the onions are translucent. This is also called sweating the onions.
– Wash the lentils and add to the onions and garlic.
– Add water.
– Bring to a boil, then lower heat and simmer aprox 1 1/2 hrs – 2 hrs.
– Season with salt and/or soy sauce to taste.
(Actually I like to use salt and season to just under the desired taste and then finish with soy sauce when serving. It adds a nice touch.)