Note that all the books  are also on Kindle.   "I was so fortunate to find this book! It has absolutely changed my life. I read this book at a time of crisis, when the baby I hoped for was not arriving. Through the practice shared in this book, the crisis has turned into an opportunity and an invitation to grow and change. I started by reading this book, then I read the Fertile Female, which I also highly recommend. The author has tremendous integrity and her work has changed thousands of lives. She is committed to helping people who are suffering. Even a quick glance at the Fertile Heart website makes it clear how the practice has been a gift to so many… and responsible for the arrival of many, many babies whose parents dreamed of their arrival!!" from Amazon Reader 
Cooking to Conceive the Inconceivable
By Edward Baum, Adell Press, 2018
One Chef's Journey to Fertile Fatherhood by Edward Baum, Adell Press 2018. In the companion book to Julia Indichova's Inconceivable, Cooking to Conceive the Inconceivable, Indichova's husband and Culinary Institute of America trained chef, Edward Baum, offers an intimate view of infertility, from the male partner's perspective and a Chef's View of Food as an Expression of Love. Includes male fertility tips and an Afterword by Julia Indichova.
$18.95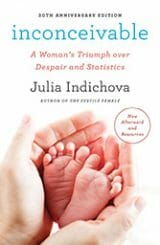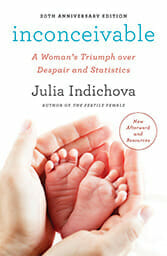 Inconceivable
By Julia Indichova, Broadway Books, 2001
A Woman's Triumph Over Despair and Statistics by Julia Indichova, Broadway Books, 2001. For anyone who has ever been told "Sorry, there is nothing you can do," Inconceivable is bursting with self-determination and hope. According to several fertility specialists, Julia's high FSH (follicle stimulating hormone) level was an indication that her body was no longer producing fertilizable eggs. Trade Paperback.
$13.95
The Fertile Female
By Julia Indichova, Adell Press, 2007
How the Power of Longing for a Child Can Save Your Life and Change the World by Julia Indichova, Adell Press, 2007. This book documents almost a decade and a half of research, and teaching, and outlines the Fertile Heart™ Conceptions Tools, that have given thousands of women the confidence to follow their own wisdom and overcome allegedly insurmountable obstacles. Hardcover.
$27.95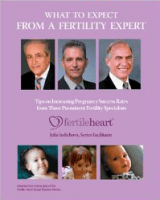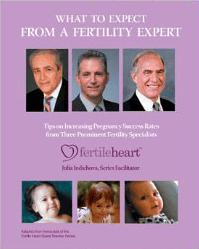 What to Expect from a Fertility Expert
By Julia Indichova, Adell Press, 2014
Tips on Increasing Pregnancy Success Rates from Three Prominent Fertility Specialists by Julia Indichova, 2nd Edition, Adell Press, 2014. Julia Indichova interviews three of America's most renown fertility specialists — Sami David, Jamie Grifo, and Jonathan Scher — about their practices, their assumptions, and their results. She asks them the questions that potential clients, including those just beginning their journey and those who have tried assisted reproductive technologies such as IVF without success, would ask. Kindle Ebook.
$9.95