Fertility Supplements: Fertile Heart Choice
Be sure to take a look at my
Fertility Supplements: Do's & Don'ts of Using Supplements to Boost Your Fertility and Health
before choosing your supplements. You'll find a few recommendations there.
The research on supplementation is ongoing.
Email us at info@fertileheart.com
for possible updates and additional suggestions.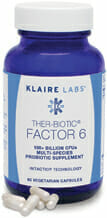 Klaire Labs Ther-Biotic Factor 6
Ther-Biotic® Factor 6 is a high-potency, hypoallergenic blend of six certified probiotic species formulated to provide 100+ billion CFUs in a single capsule. Probiotics help to maintain a healthy balance of bacteria in our bodies, contributing to immune strength as well as our ability to digest food and absorb nutrients. 
In the last several years I've seen many of my clients increase their chances of getting pregnant with the help of high quality supplements. Research and clinical practice also come down on the side of fertility supplementation for both aspiring parents. Regardless of which one of you has been diagnosed with an imbalance, increasing both partners' level of health has been linked with higher pregnancy rates. Be sure to read the the 3-part article on the do's and don'ts of supplementation suggested at the top of the page.
Testimonials
"At the workshop and afterward I found I was reaching a space that finally allowed me see that I had options to create our family. And that I t less of a mother, woman, person, catholic, or wife for seeking generosity from and egg donor. Along with diet and imagery I really delved deep into as Julia says. Through imagery, blogs, reading her books, the retreat and conference calls I did that. It was very powerful. I also used the vitamins she recommended which I loved and felt really good using. We are now 4 1/2 months pregnant with two gorgeous beings."
See Meghan's full story here: www.fertileheart.com/success-stories/egg-donation-the-fertile-heart-ovum-road
In my quest for knowledge about fertility/infertility, and natural treatments and approaches, I came across your work. I read the reviews of your books and then spent a good deal of time on your website. Your words spoke to me, and I felt compelled to pursue your approaches. I have both of your books, and I have just received one of your CD's. I am so eager to use and learn more about your work!! I have hope. After spending time reading your website, I have started to take some of the supplements you suggest and like them a lot."
See Anna's full story at: www.fertileheart.com/success-stories/natural-conception-after-failed-ivf