A Soaringly High FSH and Undetectably Low AMH Leading to an Old Fashioned Conception!  – by Kumari L.
"Turn right, down the tree-filled avenue of possibility!" I remember that line so clearly as I write this. So many times throughout this journey the Sacred Choices imagery on Julia's Imagery CD helped me do exactly that, "turn right down the avenue leading to the park full of possibility" when I was tempted to turn left down the path of "infertility, hopelessness and self-pity."
Perhaps my story will help someone do the same; to keep choosing the path of possibility even when the obstacles seem insurmountable. Our stories may not turn out the same, but if I learned one thing from the Fertile Heart Ovum practice, it's that hopelessness is not a fertility friend and self-pity can only lead you down a dead end road.
In June of 2010 I noticed my periods becoming sporadic and I began to experience hot flashes. I attributed the changes to stress, and the fact that I was in a new relationship after a rather traumatic breakup.  The hot flashes stopped after a while but I decided to get tested and my first FSH reading came back at 109. I had no idea what this meant. I signed up for an appointment with a fertility specialist through the National Health Service here in the UK.  When I realized that that appointment was going to take much too long, I decided to go to a private clinic.
"You Are Way Past Menopause"
The first specialist I saw said: Gosh with these levels you are way past menopause, FSH levels need to be under 10. I was completely crushed!!! Desperate to prove that this must've been some sort of mistake I was determined to find somebody who would have better news. I could hardly breathe when the second fertility specialist confirmed the diagnosis.  After that second consultation I was on a downward spiral and after each appointment I got more and more depressed. So when one of the private clinics was offering free fertility support group sessions, I decided to join. But the energy in that group got me even more down. Everybody was so angry and bitter I was in worse shape after the group was over than I was before I got there.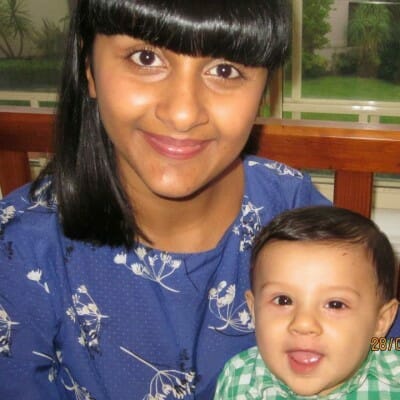 High FSH / Low AMH and Pregnancy Looking Unlikely
The third fertility specialist was with the National Health Service and by then my FSH level soared to 150 and when they tested my anti mullerian hormone levels, the doctor reported that my low AMH level was pretty much nonexistent at 0.01. It's best, he said, that I move toward a donor egg cycle as soon as possible, because, the later I do it, the less chance of success. So not only was I devastated, now I was in a frenzy, feeling I had to act immediately or else all chances of having a baby would be gone.
I was about to talk to my younger sister asking her if she'd consider being my donor but then something just made me stop. I'm not even sure what it was that got me feeling that what I was hearing especially about the rush toward egg donation didn't make sense. I was only 34. I was reading about women going through successful egg donor cycles in their late forties, even early fifties. Why was this fertility specialist in such a rush to get me sign up for egg donation? It didn't feel right to me, so I decided I needed to just take a break, give myself a chance to sort things through.
The Fertile Heart OVUM Practice
And that's when one day searching for some information on fertility herbs I found Fertile Heart. I immediately got The Fertile Female  and Inconceivable, started to work with the Imagery CD's, and when I heard the Expert Within Imagery it was a kind of an instant enlightenment! I suddenly felt how true that was that I had been going to all these external experts, but really had no idea who my fertility expert within was, or how I would access her wisdom.
Gradually as I became more familiar with the Ovum ideas, the answers to that question seemed to come when I least expected them. When I joined a teleconference I immediately felt like this was a whole different way of looking at infertility. It was such a welcoming community and the focus was on truly mothering ourselves and turning this into an opportunity no matter how things turned out. I loved that!
I kept reading and re-reading the chapters in The Fertile Female. If I got down on my body about not doing what I wanted it to do, I'd read Issues in Your Tissues. For a while it was my favorite chapter. The Fertile Heart tools helped me get through the most crushing times, I had the CD's on my iPhone and would listen to them whenever I felt like hopelessness was taking over. I'd do the Wailing Wall from the Body Truth CD when I got enraged at the pressure, which, looking back, was all about money making. But at the time I was so vulnerable that without these tools and without finally accessing the fertility expert within, it would've been so easy for me to succumb to the pressure.
Gradually I started looking at my life and this journey through a very different lens and I actually started looking at this journey as a great gift.  I know you might be saying it's easy for her to say that now. But the truth is that even before I became pregnant I realized what a gift this journey was for me.
I've been so used to striving at work, in my relationships, and in just about everything, that my walk towards my baby, as Julia calls it, just became part of the striving. I would spend hours researching every herbal supplement, sign up for every alternative fertility therapy, berate myself for any slips in my "fertility diet," do every visualization exercise. But it was all done in such a frenzied fashion that it was perhaps doing more harm than good. When I finally understood what the Fertile Heart Ovum practice was really about, I decided that I was doing a good enough job. And I stuck to my routine around fertility supplements, instead of trying to find new remedies every second or third day. I did my imagery, and the meditation and movement sequences from Body Truth, and I hung on to hope in a more compassionate embrace.
Choosing Possibility: FSH 150, AMH 0.01 and a baby on the way!
I found out I was pregnant on New Year's Eve, what a way to start the year! Yes, I'm pregnant, conceived the old fashioned way with lovely intervention from my most wonderful husband.  And the journey continues.  Although I'm pregnant, I'm still using the Fertile Heart Ovum practice tools, I'm still walking toward my baby, still learning about slowing down, treating myself to a reflexology session, reminding myself to be compassionate with myself. That, might be another important priceless lesson in fertility that I learned through my Fertile Heart journey. I must first be compassionate with myself, then it's a lot easier to be compassionate with everyone else around me. I imagine it will also make it a lot easier to be a good mom. Thank you, Fertile Heart for being here, for helping me  hold on to the empowered fertility specialist within and to drown out the voices shouting at me from all directions that with and FSH of 150 and barely detectable low AMH  of 0.01 I would never conceive naturally!  Julia, I think your work is sooooo important, thank you for the bottom of my heart!