A New Vocation or a
Soul-Lifting Side Gig
A 16 Week Online Training
with Author Julia Indichova
Lead the way toward more life-friendly reproductive healthcare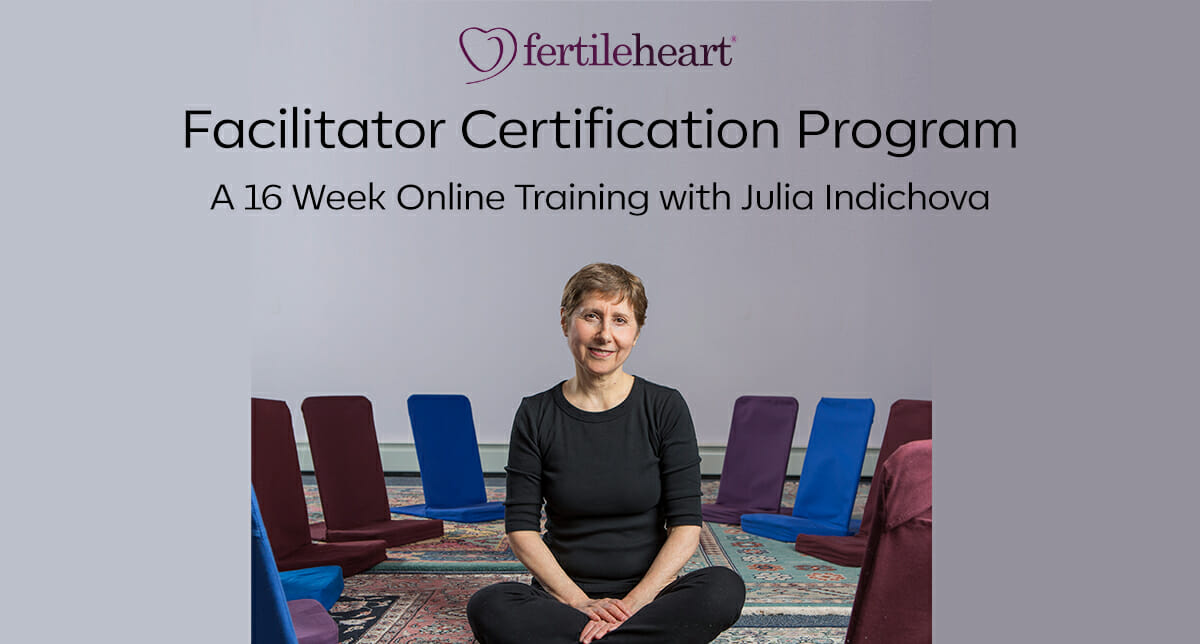 A New Vocation or a Soul-Lifting Side Gig
A 16 Week Online Training with Author Julia Indichova
Lead the way toward more life-friendly reproductive healthcare
Start a Fertile Heart Circle in Your Community
Praise from the Medical Community
"Cultures change, evolve, and heal because of the courage of individuals.
Julia Indichova is one of those individuals.
Let her be an inspiration for you for how to trust yourself, heal yourself, and reconnect with the wonder of your body and all of its possibilities."
Christiane Northrup, M.D.,
NYT bestselling author of Women's  Bodies, Women's Wisdom
"It's nice to read a medical story with a happy ending.
It's even nicer when we learn something useful from it for our own lives. So it is with Julia Indichova's mindful journey described in Inconceivable."
Ellen Langer, PhD,
Professor of Psychology Harvard Medical School, Author of Mindfulness.
"A most valuable resource not only for women but also for their partners.
The Fertile Female is a thoughtful, passionate and loving guide to the intangibles that surely contribute to difficulty in conceiving."
Marc Goldstein M.D., F.A.C.S.
Surgeon-in-Chief M.D. F.A.C.S. Male Reproductive Medicine and Surgery, Cornell Institute for Reproductive Medicine
Medical Professionals who are Fertile Heart Moms
"I want to thank you for introducing this language and new thought process to me.
I learned through Fertile Heart that this journey is part of my medical training…I've become reminded over the past few weeks that my role as a healer is to listen, provide support and reassurance… I lost this somewhere along the way. I've forgotten how my deep love for children led me to become a pediatrician in the first place."
Ranjini Srinivasan M.D.,
Pediatric Cardiologist & Fertile Heart Mom
"I am a physical therapist and truly believed I understood and knew my body.
I placed all my trust in the medical world who had educated me and welcomed me into their professional circles. Yet when my fertility was challenged that world that I knew and trusted shattered me into millions of pieces…Fertile Heart not only taught me how to heal, but also how to learn and understand and support my body in ways I had never known before. The fertile heart practice has made me a better person and professional…The Fertile Heart work is so important. I strongly urge all professionals out there to learn about it."
Deidra Sullivan
Physical Therapist & Fertile Heart Mom
"I am so excited about this work!
I am a family doctor who has been doing the Fertile Heart practice for the last two years. I have grown so much and have also become a better physician for all of my patients."
Suzanne Powel M.D.
Physician & Fertile Heart Mom
Is the Training Right for You?
Are you a healthcare practitioner looking to expand your toolkit? Or have you endured the heartache of delayed motherhood and are now keen to pass on the lessons learned? . Or are you someone passionate about reducing unnecessary suffering and the depletion of our common resources in the baby-making world?
If so, this may be just be the next stunning step in the direction of your desire.
A quick peek at the Facilitator Training Videos
The training will be conducted entirely online through video, audio, and written materials and through live coaching sessions with me. Your toolkit is designed to give you everything from made-for you outreach resources, outlines for ongoing circles, and most important: the encouragement and support for stepping into your leadership role from a place of confidence and equanimity.
Ready? This link will take you straight to the application form.
On the fence? What do you risk by applying?  
"If you want to learn something, read about it. If you want to understand something, write about it. If you want to master something, teach it."
                                                                 – Yogi Bhajan