Take a look at this humble, fertility superfood and all the great stuff it can do for you as you're prepping for getting and staying pregnant and for the fun years beyond.
Tahini, a nut butter/paste made from soaked ground sesame seeds, is a staple in our house.  We use it in our vegie wraps, salad, or on a cracker similarly to any other nut butters.
Here are some of fine reasons to get creative and find your own special way to enjoy it:
The protein building amazing chains of amino acids make up the biochemical structure of all body cells. They are important players in hormone health. Sesame seeds are a great source of certain essential amino acids.
Tahini is rich in minerals such as phosphorus, lecithin, magnesium, potassium and iron, all of which are important for metabolic functions.
Sesame seeds are a good source of Methionine, which aids in liver detoxification. With liver being one of the most important organs for processing estrogen, we want to give our livers all the help we can.
It's a great source of calcium needed for lovely strong bones.
It's high in vitamin E, a much needed anti-inflammatory and immune enhancing vitamin
Good source of iron, another mineral needed for maintaining a healthy pregnancy. (Be sure to check your iron levels before supplementing with iron if you're not having regular menstrual cycles)
  One thing to watch out for:
With tahini as with any other food, moderation is the key. Sesame seeds are high in pro-inflammatory omega-6 fatty acids. So you want to make sure you balance it with foods higher in omega-3 fatty acids.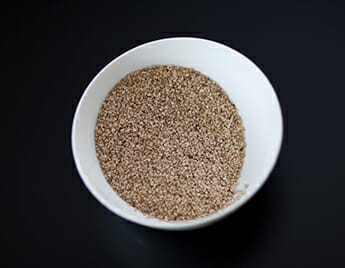 Tahini can be used as a dip or a dressing or spread. You can adjust the water content to
create the desired consistency. A wire whisk makes the mixing easy.
Ingredients:
1 cup Sesame Tahini Paste
1/2 cup Water
1 Tbsp Lemon Juice
2 tsps Garlic Oil (Olive Oil that's been infused with chopped Garlic – only takes a few minutes)
3/4 tsp Cumin
1/2 tsp Salt
1/2 tsp Black Pepper
Directions:
Put Sesame Tahini Paste into mixing bowl.
Slowly add Water whisking gently at first, so as not to splatter contents.
After the paste thins a bit add Lemon Juice and Garlic Oil.
Add other ingredients and more Water if needed for desired consistency.