I came to  Julia's website just over a year ago with 6 failed IUIs, 5 failed IVF cycles, and 4 more cancelled IVF attempts.  I had been trying to have a child for over 6 years and went through every fertility medical route possible.  I was 40 years old and was being told by some of the best doctors in the field that I needed to strongly consider donor eggs…
After thoroughly reading every page of Fertile Heart, I decided to go for a natural pregnancy after multiple failed IVF's.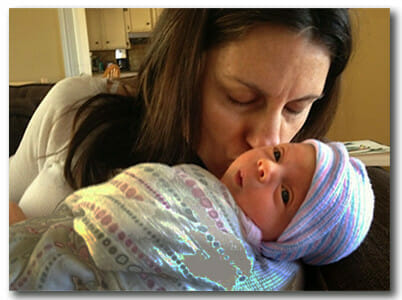 I loved her saying that at a minimum I'd be getting myself into the best health possible. I bought both her books, Inconceivable and The Fertile Female,  and signed up for her workshop… The workshop was amazing.  Again, a bit skeptical as we first drove up, but the whole experience really changed me.
I left feeling a huge weight lifted off of me and a positive energy of hope I hadn't felt in a long time… I signed up for the Fertile Heart Teleconferences and did my Fertile Heart Imagery twice a day.  I figured if I was going to do this program, I was going to put 110% of myself into it.