Mind-Body-Heart Fertility Cleanse: Fertile Heart OVUM Intensive Series with Author Julia Indichova
The Fertile Heart OVUM Mind Body Program is also a fertility cleanse. But it's not the kind of cleanse that  comes in a bottle or a  pill you pop. I'll suggest supplements that can help, that's not a big deal, anybody can do that. I bet you've already taken a few hundred dollars worth of supplements.
The Fertile Heart Road to the baby is a pretty cool road. It's not a road of figuring out your fertility plan, or finding the next infertility guru to save you.
It's a road toward meeting the most trustworthy fertility specialist who is accessible for a consult 24/7. After driving myself crazy looking for someone to fix me, it was such a relief to discover that there was another way.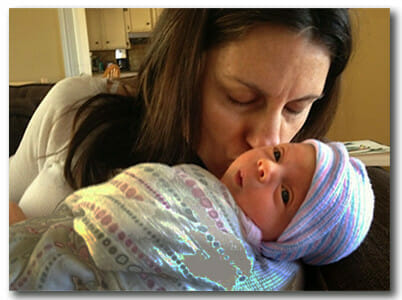 "I was a bit skeptical, but after 15 failed treatments I had exhausted the medical route." – Gen
Hi Julia, I am writing to tell you that I am pregnant. I took the test at the end of last week, and, amazingly, I am naturally pregnant (after 6 failed IVF's, 4 IUI's with stimulation drugs over 8 years)… I am doing lots of The White Flower, Three Steps Forward and Welcome Home as I am constantly worrying about miscarrying…. I wasn't going to join in tonight's circle as a result, but I could do it if you think it would be helpful….Thank you so very much for all your help, love and support. I was only thinking the other week how it was a year ago on 1 March that I came to Woodstock to meet you.
Yours affectionately, Sarah P. – London UK
"Our babies definitely meet us half way. I just turned 43 a few weeks after giving birth… Thank you so much Julia for your life changing work which I discovered… when I first joined the Introductory Teleconference. The OVUM work took commitment, but I discovered that consistency in showing up in the circle was really important to me and after each call I felt motivated and inspired to keep going…" – Katherine O, Paris France   For More Over 40 Success Stories, Click Here 
You can turn your baby hunger into a self-punishing weapon, or you can turn it into a source of healing and discover how
SUBLIMELY FERTILE you really are.
I remember the feeling of desperation. Oh, I do remember. It was awful. But you can get from awful to awesome. I'll show you how and I'll cheer you on every step of the way.
"I came to Julia's website just over a year ago with 6 failed IUIs, 5 failed IVF cycles, and 4 more cancelled IVF attempts. I had been trying to have a child for over 6 years and went through every fertility medical route possible. I was 40 years old and was being told by some of the best doctors in the field that I needed to strongly consider donor eggs…My heart was broken from all the cycles of hope, followed by disappointment, and I felt in deep despair… To be honest, I was a bit skeptical, but I had exhausted the medical route…. Thank you, thank you, thank you Julia – for the wonderful work you do with Fertile Heart and the lives you touch with your fertility program!!" – Gen G. Nashville, USA
Whether your baby is right there in your arms, or still on the way, the umbilical cord is already attached to your heart.
Format:  This is a LIVE teleconference with me (Julia).   That means that we get to not only talk about the tools and ideas of this practice, but we get to "live" them together.  Participants can interact with me if they wish to do so, receive guidance on their specific circumstances and you can also just listen and learn from my interactions with the rest of the group.
Here are some of the things we'll learn together in the 3 weeks of this introductory series:
How to use the mind-body tools of the Fertile Heart Program to identify what is blocking conception on a physical, emotional, and physical level and what is stopping you for birthing a family.  
The most important next step you need to take, if you want to move from panic to possibility.
How to move from feeling victimized to feeling empowered.
How to recognize the obstacles that are draining your energy and stopping you from moving forward.
How to choose specific actions on a physical level that match your unique needs and circumstances.
How to design your own perfect fertility diet that no one else can design for you.
How to use the Fertile Heart Toolkit to ground yourself and reduce "stress" during your IVF or any other medical treatments.
How to receive the guidance of your own most trusted fertility authority.
How to make sure that your fertility yoga or your acupuncture is really supporting you, rather than stopping you from being fully fertile.
The difference between real magic you can experience for yourself, as opposed to magic reported by someone else.
How to make sure that you look back at this journey 10 years from now not as a time of a devastating crisis but as the journey that made you give  birth to a family and the amazing life you once intended to live.
No, thankfully you don't have to figure it out yourself, but you DO have to SHOW UP for yourself.  You have to show up for yourself in a way that NOBODY else can show up for you. Not your acupuncturist, not your fertility specialist, not even your best friend or your partner.
I can't do it either.
What I CAN DO is teach you how to show up for yourself in a way you might never have showed up before. And once you learn it, you'll know how to keep doing it for the rest of your life.
If you want to think of yourself as being "infertile," and keep doing what you've been doing; if you want to keep draining your physical, emotional and financial resources,  you will have lots of people agreeing with you. That's the conventional approach to this challenge.  There is a multi-billion dollar industry counting on you to do just that.
You can also use your baby hunger to discover  how SUBLIMELY FERTILE you are.
I discovered it 22 years ago and I have kept discovering it every day since.
Thousands of other Moms and Dads before you discovered it. They traveled the Fertile Heart Road and used the special Fertile Heart Toolbox to become stronger in body, heart and soul.
Their babies came in many different ways.
You can brew a cuppa tea and read about babies that came through spontaneous conception and those who came after multiple miscarriages and the ones who came through IVF or ICSI or egg donation or adoption.
The thing you want to remember is that they all had one thing in common. They turned the "awful" into "awesome."  So can you. You can read some of their stories.  They make good fertility drugs.
Ok, sweet Mama, can't wait to hear your voice on the next call.
Sending you a big hug and as my friend Jackie likes to say, BIG LOVE!
Julia