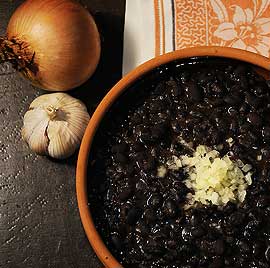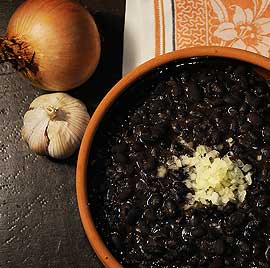 I cook most beans the same way I cook most soups. I like to alternate between red and black. Soaking the beans overnight will greatly reduce cooking time. I don't usually plan this far in advance so I end up cooking it a bit a longer it takes around 2 – 2 1/2 hours to get it the consistency I like. They will however be quite edible, but firmer in about 1 1/2 hours.
Ingredients:
– 4 Med-Lg Onions diced (4 cups)
– 2-4 teaspoon chopped Garlic
– 1 Tablespoon Olive Oil
– 1 Tablespoon Salt
– 3 Tablespoons Tomato Paste (about 1/2 a 6 oz. can)
– 1 pound Black Beans
6 Cups Water
Directions:
– In a large pot add onions, garlic and oil
– Cook with medium heat stirring occasionally. Be careful to not let the onions stick and burn.
– Cook until the onions are translucent.
– Wash the Beans and add to the onions and garlic.
– Add water and tomato paste.
– Bring to a boil, then lower heat and simmer aprox 2 hrs – 2 1/2 hours. And keep checking the water level.
– Season with salt.