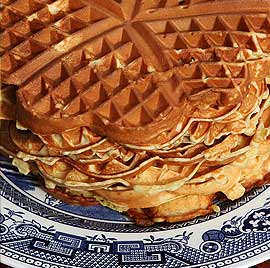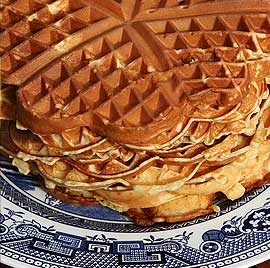 These are the best waffles I've ever had. And I'm not just saying that because it's my recipe. Ask anyone who has had them. I usually make three times the recipe and freeze them in 2 waffle packets. (They're even good frozen)
Ingredients:
– 1/2 cup buckwheat flour
– 1 1/2 cups whole wheat pastry flour
– 2 tsp aluminum free baking powder
– 1/2 tsp salt
– 2 eggs separated
– 2 cups Almond Milk
– 2 Tablespoons Vanilla
– 1/4 cup Agave or Maple Syrup
– 1/4 cup Olive Oil
Directions:
– Mix all the dry ingredients (flour, baking powder, salt)
– In different bowl whisk egg yolks, almond milk,agave or maple syrup, oil.
– Whip egg whites. Careful not to overwhip they should be soft peaks.
– Now combine both bowls of ingredients until smooth.
– Fold in egg whites. It's best to use a rubber spatula. Do not whisk at this point.
– pour into well seasoned waffle iron for about 90 seconds.