Women Doctors Are Called to Speak Up: Study Finds Female Surgeons at Increased Risk of Infertility
A recent study published in JAMA Surgery points toward increased risk for infertility, and pregnancy- linked complications among female surgeons. Looking at the data highlighting the greater incidents of pregnancy loss, the use of assisted reproductive technology and the need for neonatal care made me think of the case histories of some of the female doctors I've had the privilege to work with.
Doctor Purani Palaniswami was a rheumatologist, Susan Gunduz was a pediatrician, Suzanne Powell was a family doctor, Ranjini S. was a pediatric cardiologist.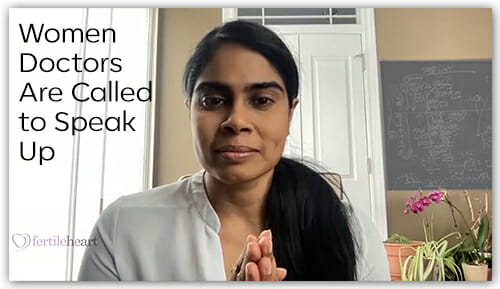 My work with each of these brilliant women taught me something I find missing from the many commentaries on the results of the research.
The data presented in Jama can certainly be helpful in raising awareness about the common, well-known culprits of child-bearing challenges such as: age, lifestyle, the physical burden of long work hours.
It's equally useful to acknowledge that not only for women surgeons but in a number of other professions "there appears to be no perceived or formalized structural support for sustaining a healthy pregnancy." (As noted by one of the authors of the study.)
Female surgeons like the rest of us have human bodies that are susceptible to the same stressors as all other female bodies.  Research that validates the importance of self-care in preparation and in sustaining a full-term pregnancy is a welcome reminder of the need for advocacy in that regard.
But for Purani, Susan, Ranjini, Suzanne and the many other physicians I'd worked with, their baby making trials  became  a singular opportunity not only for re-thinking their work load and stressors, but a brand new—far  more expansive, more humane—way to practice medicine.  As Suzanne put it, "I have grown so much and have also become a better physician for all of my patients."
Yes, women doctors are called to speak up. Not only for themselves but for all of us.
I've  been making my way through your videos again and I'm really enjoying them. 
I want to thank you for introducing this language and new thought process to me.
I still practice the OVUM tools constantly! Even when I was in labor, the OB/Gyn wanted to rush the delivery and induce me…I decided to go home and labor in peace…I feel so lucky and I am deeply indebted to you for all that you've taught me.
Do you remember I said during one of our calls that I wanted so much to be one of your success stories? I can't believe that at last I am!
A million thanks,
Ranjini is a pediatric cardiologist and a Fertile Heart Mom of the baby girl in that picture. She conceived spontaneously after 2 failed IVF's.