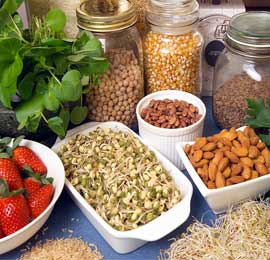 What Men Can Do
by Rosemarie Gionta Alfieri
The following excerpt is reprinted by permission. The article appeared in the May 99 issue of Let's Live Magazine letslive@earthlink.net

Zinc is a vital trace mineral found in whole grains, legumes, nuts and seeds. Secreted into semen by the prostate gland, it stimulates testosterone production and also may prevent the destruction of DNA in sperm. Man with low sperm counts often have much lower levels of zinc than do men with high sperm counts. A number of studies have shown that zinc supplementation can improve make fertility. In one study, researchers at the University of Rochester School of Medicine and Dentistry in New York treated 100 men for infertility with 440 mg of zinc sulfate daily for a period of two months to two years. In patients who initially had low concentration of zinc in their semen, the treatment helped to improve seminal zinc levels significantly, and in one group it also increased sperm motility.
The amino acid arginine appears to play a significant role in male fertility as well. Vital for normal protein synthesis and cell replication. Arginine deficiency results from poor diet or malabsorption of protein and can result in damage to the testes. A study conducted by researchers at Beilinson Medical Center and the Tel-Aviv University Medical School treated 178 patients with a daily oral dosage of 4gm of powdered arginine. After three months, results showed a major increase in sperm count and motility for 111 of the men; 28 pregnancies resulted.
In addition, botanical medicines such as ginseng and pygeum appear to be effective in treating male infertility. Ginseng is thought to increase sperm formation and testosterone levels as well as sexual activity, and pygeum seems to help men who have a diminished secretion of semen.
Recently a small study conducted at the West Essex Center for Advanced Reproductive Endocrinology in West Orange, N.J. found that treating male patients with pine-bark extract in the form of Pycnogenol (an herb-like complex of antioxidants) improved the mophology (or shape) of the men's sperm by 99%. This is just a preliminary study. Nonetheless, researcher Scott Roseff, M.D. says, "the increase in structurally normal sperm is significant."