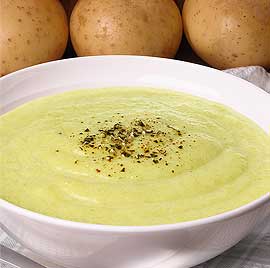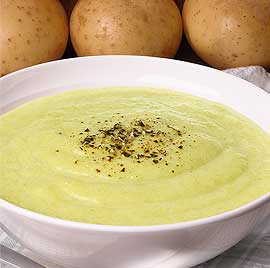 This one is a variation on the vegetable soup except it's a little more like a potato stew. I wanted to make my usual recipe however I was short on onions. Now after I have told you how important onions are I suppose I should have put my shoes on and went running to the store. I did however have some scallions and a little celery and garlic. I added the scallions, celery and more than my usual amount of garlic to compensate for the small amount of onions. So now it's a variation on Potato/Leek Soup with the scallions filling in.
Having to deal with the hand we're dealt is a reality in all aspects of our lives. And as you know the kitchen is no exception. Don't abandon a recipe you like just because you're short on some ingredients. Think about alternatives. It can take you places you've never been before.
For example, as with this recipe, when I'm short on onions I often increase the amount of garlic.
Occasionally the ingredients themselves are not quite perfect. You cannot expect to always get the freshest, tastiest ingredients. Does this mean you shouldn't use them? Well clearly if they're rotten then don't. But what about those borderline cases? For instance half the scallions I used in this recipe were starting to show signs of age. I peeled off the top brownish layer, cut away some of the other brown portions, washed them and then they were good to go, for soup anyway. I would be less willing to use them in a salad or as a garnish. But cooking them would be fine.
And fresh doesn't always mean tasty.
How often are the carrots you get really sweet? I am particularly conscious of this because we serve fresh carrot/apple/vegetable juice to the girls every morning. They are not happy when the carrots are bitter. I find myself breaking off little tips of carrots in the store to taste them before purchasing. The range in sweetness is huge. Sometimes the bigger, "horse", carrots are sweeter, sometimes it's the bunches with the Greens still attached (a sign of freshness at any rate). I have yet to find a rule, at least with the organic commercial brands.
So, back to the topic at hand, what to do? If you bite into a carrot and it's so bitter you want to spit it out, chances are you don't want it in your soup. This however is not entirely true. It is still packed with important nutrients and cooking will offset the bitterness. I will also use a little honey to cut the edge off certain recipes. This should be done at the end, just before serving.
Well back to the soup. I cooked the onions and garlic in the usual fashion and then added the scallions and celery. After a couple more minutes I added the potatoes and water. 10 more minutes and then the Kale.
Ingredients:
– 2 small Onions diced (1 1/2 cups)
– 2 stalks Celery (1/2 – 3/4 cup)
– 2 Bunches Scallions
– 2 Tablespoons Garlic
– 1 Tablespoon Olive Oil
– 1 Tablespoon Salt
– 7 Small-Medium Potatoes med pieces (1/2″ Cube) (6 Cups)
– 1 Bunch Kale – 1″ sq cut (4 Cups)
– 6 – 8 Cups Water (Enough to cover)
Directions:
– In a large pot add onions, garlic and oil
– Cook with medium heat stirring occasionally. Be careful to not let the onions stick and burn.
– Cook until the onions are translucent.
– Add Scallions cook another 3-5 minutes.
– Add Potatoes, make sure there is enough water to cover bring to boil, then simmer 10 minutes
– Add Kale and enough water to cover ingredients, simmer another 15-20 minutes
– Season with salt, add a touch of soy sauce (to taste) when serving.