Your Fertile Heart – For the Wild Geese of Mary Oliver
by Julia Indichova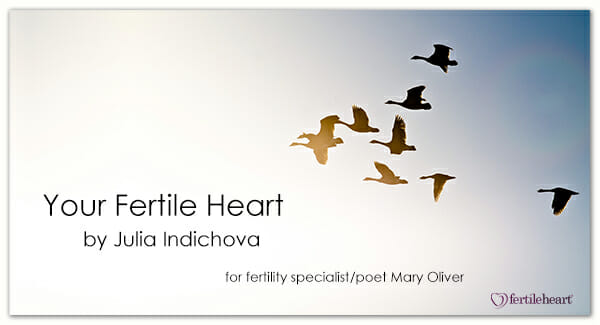 You do not have to be positive.
You do not have to massage
mountains of kale,
chanting mantras dispensed by monks in grey robes.
You only have to let the heart's intelligence
call out directions.
Tell me about sorrow, yours, and I will speak of mine.
You do not have to memorize
the 99 attributes of top-tier saints,
hear psychics prophesize your rise after the fall.
You only have to let
a single squelched truth
roll to the fore,
untangle the yarn of yearning,
you only have to trust
the purity and power of your one desire.
This poem was inspired by the iconic Wild Geese of Mary Oliver and by the many beautiful people I meet  who tell me they want to be more "positive."
Anything you're guilt-tripping yourself about? Anything you think you should feel more "positive" about? Tell us, let's get some healing going around here.
Sending you a giant hug!
Julia
Copyright © Julia Indichova 2019