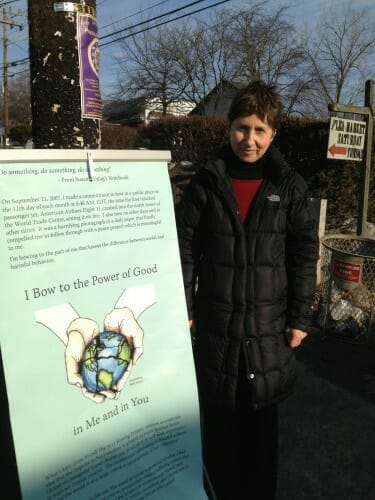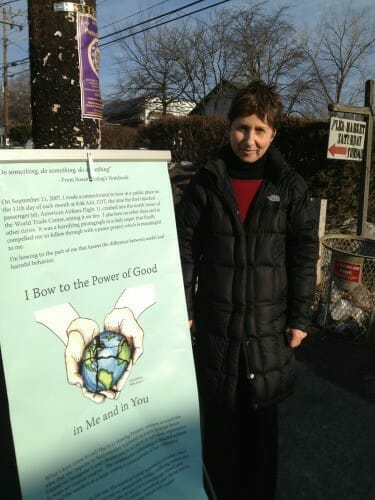 March 11, a sunny hatless bowing day!
What do I bow to today? How do I use my freedom of expression here in my adopted country on this Tuesday morning?
An eye catching headline "Ukraine's Ousted Leader Urges Military to Resist New Government" takes me back to 1968, when the Russian troops marched into Kosice, my hometown in former Czechoslovakia, to "save us; " to save us from waking into the dream of being our own masters.
I was then one of the "bandits," this ousted leader urges to target.
I remember how betrayed I felt, Tanks rolling through the main street, bullets flying. Later talking to some of the soldiers, clueless about what it was they were doing and why.
The proverbial following of orders.
Following prescriptions, looking for saviors.
A smiling, wiry older man jolts me out of my reverie.  We shake hands. Dean. He tells me he is 80. The energy he radiates is irresistible.
Reading the last lines of my sign out loud, Dean says,
This is exactly how I feel. I've been writing bitter poems lately because I'm so angry about how we're behaving.
Then he looks up at the pole behind me covered with staples.
You see that? Each one of those is someone's dream. A flyer they put up there, the dreamers.
I guess that's what I'm doing here today, acting on an image, a dream of sitting in a circle of beautiful bandits. Beautiful bandits birthing a human-type that intends no harm.