I'm scared, tired, holding no more than a sliver of belief that what I'm doing will make the slightest difference.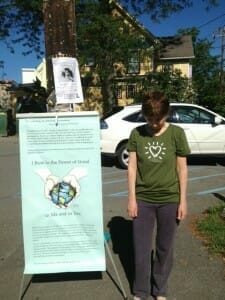 But tomorrow is my day to show up for the eighth time at Ground Zero for my 9/11 Bowing Project, so that's where I'll be heading on the morning train out of Rhinecliff. Because somewhere underneath my fatigue and fear, I also do know that I've actually been offered this gift called "infertility" as a training ground for doing the work I've been put on this earth to do. Reduce Evil, add to the Good.
I've been given a chance to discover how much difference one, un-credentialed, un-sponsored, desperately-wishing-for-a-child woman can make, when she stops waiting for someone to do her thinking for her.
I'm going tomorrow because it's my chance to speak up in a particular way-to attempt to engage in a far more meaningful dialogue about the roots of violence; to speak up in a way that makes sense to me.
Even if it makes sense to no one else.
And…well, there IS one thing that I am wildly curious about.
I'm bringing with me some of the beautiful Turn It Around T-shirts that have been sitting in a box in our studio for the last four years. And Kenny Schneidman over at Catskill Art art supply store here in Woodstock, helped me print a strip of paper to attach to my banner that says:


Not quite sure what I'll be asking the peace-workers to do tomorrow, but I'll figure it out. And it should be fun to see if I get any takers for the job.