The Fertile Heart response to the May 10, 2012 Fertility Study in New England Journal of Medicine.
Yes, the Australian study published last week in the New England Journal of Medicine, which showed a 28% greater risk of birth defects in children conceived with fertility treatment, is the largest to date. The findings however are nothing new. Several  studies in the last decade have arrived at similar alarming conclusions.
I've written about this subject quite a bit, Fertile Heart is all about being proactive; about choosing assisted reproduction only as an absolutely last recourse and doing so in a way that protects the mom and the unborn child.
It's a busy time around here, and I was actually going to let this one go, but then I read the New York Times article about the study with responses from the medical community. I appreciated the comments about the significance of the findings by Dr. Davies from the Robinson Institute at theUniversity of Adelaide. And then I came across a response by Dr. Pasquale Patrizio, director of the Yale University FertilityCenter, which begged to be addressed. So I thought I'd address part of this blog post directly to Dr. Patrizio.
"The most important message that I take from this," said Dr. Patrizio, "is that it confirms pretty strongly the fact that infertility itself increases the risk for birth defects. If you're infertile, you're already at higher risk even if you don't take any treatment."
Dr. Patrizio, if you were one of those "infertile"  people  reading the morning edition of New York Times, how would this statement make you feel?
Is this really the most important message you take from this latest study, Dr. Patrizio? Is this the most useful message to pass on to your patients?  Aren't our doctors meant to be the teachers to point us  first and foremost toward the road of no harm? Wouldn't the most important message from this, yet another alarming study be, to encourage people to seek more health-affirming ways to resolve their fertility difficulties? Isn't this yet another warning that we are not only hurting ourselves when we silence our bodies' call for help, but we may well be  causing harm to the children we so desperately hope to bring into the world?
If any of your patients Dr. Patrizio, might be looking for a more life enhancing, actionable response to this study, please do let them know there is a great deal they can do to minimize the risks of birth defects. And if they express interest in intervention such as–health and fertility boosting foods, or energizing emotional and soul nutrients that might in fact completely eliminate the need for assisted reproduction–perhaps you could direct  them to the Fertile Heart neighborhood? My husband took that picture this afternoon, it's all fertile and green around here. This Sunday's workshop is full but they could come in June.
I bet quite a few of your patients -like our lovely Fertile Heart mom Denise Kunish in the Fertility Success Stories Video–will discover that they are far from infertile.  You see, Denise. as so many women in our community was told by your colleagues, Dr. Patrizio, that she was infertile; that she was at 37 of advanced maternal age and should rush to find an egg  donor.  But with not much more than a small dose of Fertile Heart intervention (no, no needles, no drugs, I didn't even touch her, except for the goodbye hug) Denise gave birth to a wonderful little boy and then, wouldn't you know it, she went on to have two more delightful, rosy cheeked  children.  Yep, spontaneous conception. I hope you'll watch her story, and pass it on to your patients, doctor Patrizio, this might just be the right time for them to hear Denise's story. There she is with her brood.  Not exactly a picture of the unfortunate-infertile-advanced-maternal-age-victim, is she?
And at the bottom of this post you'll find a few links to pages your patients might appreciate reading,  about action they can take to tilt the scale toward a roof-raising pregnancy and a silky cheeked-Fertile Heart-game-changer-baby.
May the Australian study help turn the tide toward more sustainable, more fertility-inducing reproductive health-care!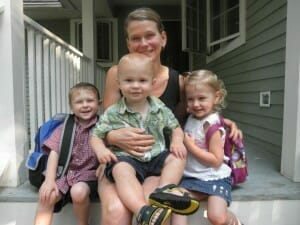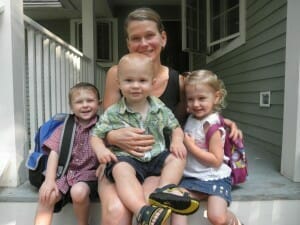 Meeting a Healthy Baby Halfway:
10 Steps toward a Pre-conception Detox
http://www.fertileheart.com/10-steps-toward-a-pre-conception-detox/
Fertility Supplements: Holistic Fertility Treatment Options
http://www.fertileheart.com/holistic-treatment-options-supplements-part1/