Fertile Prayers: Boston Bombing, Orphan Rage and Visionary Anger; Parenting for Peace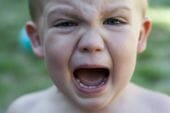 Rage, rage if I send you away, you'll be back another day…That was the chant we sang in our Fertile Heart Visionary Mama teleconference yesterday as we talked about the anger and rage that is rising up for many of us on this scenic road to motherhood. The silenced, raging Orphan that finds a way to act her truth in spite of all our intentions at positive thinkging and affirmations proclaiming our love for ourselves and our neighbors. We talked about the difference between Visionary-rooted anger that moves us toward being our own strongest allies and destructive Orphan-rooted rage.
Then in the evening I heard about the awful devastation of the Boston bombing. Bombs loaded by human hands aimed to maim other humans.
I'm thinking about the Richard family losing one child, the other losing one leg,  Jeff Bauman at 27, losing his legs!!!
Oh, it hurts, it hurts to see what we humans are doing to one another.  I'm hurting and I'm scared and I can't help but ask: what are these horrific events asking of me; asking of all of us current and future parents? Where are we going to hide our children to shield them from harm?
Are prayers enough? How do we  raise children that will co-create a safer world? How to we  show them a different way of experiencing rage? Teach them to channel it into life-enhancing creations?
Doesn't it have to begin with stepping into the war zone of our own hearts?  Not that it's something I always willingly do, but I'm always amazed at how much energy gets freed up, when I finally face that tantrum throwing little girl wailing to be heard.
Which of the I.B.O.W. tools could be helpful with the warring factions in our lives so that we don't have to act them out with our loved ones or radiate the rage into the cosmic soup?
What are the battles you've been waging lately?
How have they found expression in your behaviour?
What is the raging child inside you asking for?
I'd love to hear your thoughts and hear how we can support each other in moving not only toward a more peaceful fertility journey but a more peaceful human adventure.
With love,
Julia