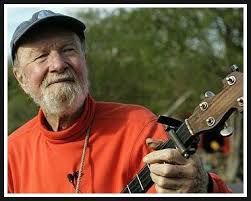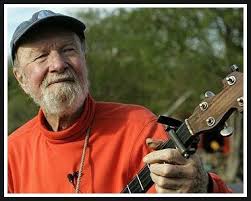 I should just let it go, I said to myself, as I read the current installment of NYT Fertility Diary riddled with blame and bitterness and the dubious science of IVF success rates.  
As if that wasn't enough, later in the day a client sent me a link to another mind boggling NYT piece by Sarah Elizabeth Richards, about "freezing her eggs in frenzy," spending $50,000 and managing to save 70 eggs to "safeguard her fertility." 
I could just let it go, I thought, keep doing my work as I have for the last two decades, changing my tiny corner of the world as best I could.
Then this morning I got an email from one of my beloved teachers, rabbi Jonathan Kligler, with a subject line that read "In Praise of Pete Seeger."
Rabbi Jonathan's words of gratitude for the man who inspired him and millions of people around the world through his passion for justice, his tireless activism and monumental talent, moved me to tears.
What would Pete Seeger say, I asked myself, if he knew what I know, if he had seen, as I have, the harm done to women sucked into the black hole of endless high tech tinkering? What would he do if he were to watch the mad march toward medicalized conception, the march toward a day when women would be stashing away and retrieving their eggs from egg banks as casually as they retrieve quick cash from the nearest ATM machine?  
What would an activist committed to the pursuit of justice say to a generation of  hip professional women reading glossy magazines that tell them the road to empowerment is paved with synthetic hormones that rev up their ovaries to produce ten times more eggs than they were  designed to produce? 
What would Pete Seeger do if he could foresee the immense damage of this technologizing trajectory: the cost to women's health, future generations, the earth, the water, the air we breathe? 
Would he let it go? 
Or would he appeal to the best in us and urge us to "guard well our human chain?" Would he attempt to awaken in us a sense of reverence for our wonderworking human bodies and the "old blue sky" and the "sweet green earth" that feeds us, the earth our adored children will rely on for shelter and sustenance. 
Thank you, rabbi Jonathan! Thank you dear Pete, for showing me what a life lived with a full heart and impeccable integrity looks like!