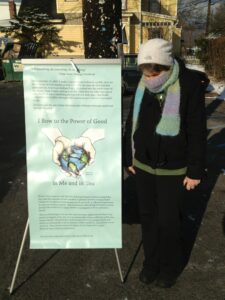 Bowing Journal 12/11/13
I have a bad cold, so really bundled up today before heading out to do my bowing:
 2 nuggets from today:  
 The power of a kind word:
"I'm glad you have some sun for your bowing today!" said a pleasant looking man after stopping briefly to read my sign.
 What makes it "work?"
Is this gonna work? This elderly, neatly dressed gentleman didn't come close enough to read the sign, but I appreciated the mischievous smile and his question. 
"Is what gonna work?"
"Whatever it is that you're doing."
"It's already working because I'm doing it," I told him. Not that I always believe this, but I do know it's true.