How "Infertility" Can Help Save the World
My friend Ellie. an avid horticulturalist, was telling me about a book titled Mycelium Running: How Mushrooms Can Help Save the World.
Having a one track mind that views everything through the lens of fertility, before long I was deep into an impassioned explanation about how infertility can help save the world.  It's something I have often thought about. Infertility can indeed help save the world, and those of us who are  trekking along the scenic road to our babies, can pitch in.
How?
I can hear you thinking, "You better not tell me we'll save the world by ending up with no children."
No, I'm NOT going to lobby for childlessness.
How could I? I turned my whole life around to bring a child into the world, I know what a desire to birth a family feels like and what it can do to your life. I know the good part and the bad.
No, I'm NOT going to lobby for giving up on children.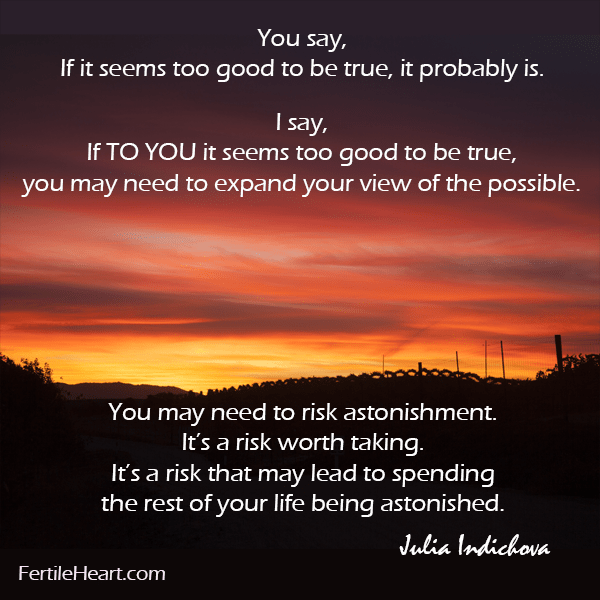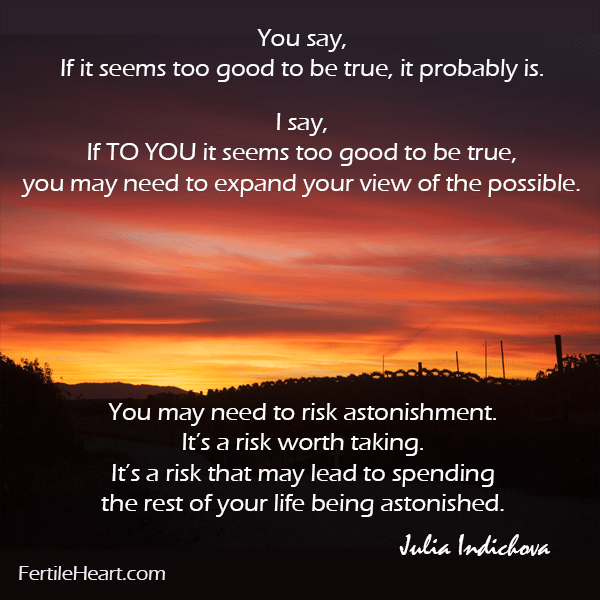 The point I want to make is that we, those of us who don't get to have our children on our own  timetable, really do have a special place among the game-changers of the world.
We could absolutely make a difference in whether things get darker, or whether we humans can set a course toward a more child-friendly trajectory.
Here is why:
Infertility in spite of the rhetoric that feeds our fears, is not a disease. We are not facing a life-threatening medical crisis. Our bodies are not adversaries that can only be defeated with the big guns of complicated procedures.
We're not up against the agonizing decisions faced by cancer patients who are choosing between invasive treatments which are not guaranteed to save their lives, and natural therapies that might also fail.
We may feel as though our lives are threatened, but feelings are not reality.
If we do need high tech intervention we CAN give our bodies a chance  to prepare for it; to swing back to a stronger, more fertile state and to give ourselves the best possible chance of a desirable outcome.
Our bodies can do that. I have seen it happen over and over again, at times in the span of the three weeks of our Intensive Series, or the seven hours of a workshop, or a few months of being in relationship with one another.
We tilt the scale toward fertility by using the divining rod of our full selves.
We tilt the scale toward fertility by listening for the precise spot where the next guiding insight is breaking through the rocks of our fears.
Then we find the remedy not by leafing through the latest edition of the physician's desk reference, but by scanning the unread pages of our lives. Astonished, we discover that a well chosen word, a glimmer of an image, an unexpected insight, can be a drug more effective than trucks full of stimulants.
We tilt the scale toward fertility by listening  to ourselves and one another  in a way we have never listened before. By hearing ourselves and each other the way we have never heard each other before.
If we can do that, WE WIN, FERTILITY WINS, LIFE WINS.
Whether or not our children arrive through a biological pregnancy, we get to show up for ourselves and each other, we get to grow healthier, stronger, and fertile beyond our wildest expectations.
If we can do that, we're bound to find the road to the child that makes for a joyful, useful life.
Yes, "infertility" feels like a life-threatening disease, but no, it's not our lives that are at risk. It's our beliefs, the beliefs that no longer serve us that are threatened.
It's our collective denial of our astonishing power,  that is gaining on us.
The stakes are high indeed.
But since we're not facing a life-threatening disease, we can take a chance on the grand experiment of following the thread of truth and see where it leads.
Then we can encourage others caught in the maze of confusion to do the same.
It's the how that matters most.
How we travel to meet our child halfway, how we prepare for what we've deemed to be an absolutely necessary in-vitro treatment or egg donation; how we prop up our sperms, (even if intracytoplasmic sperm injection will deliver it right into the egg,) how we respond to a high FSH, or low AMH, or to a shocking diagnosis of stage four endo; it's the how that matters most.
It's the how that will determine how we look at symptoms for the rest of our lives.
It determines how we raise our children. What we feed them and what we teach them.
It determines how we spend our hard earned cash.
It determines how many landfills of syringes we leave behind.  (Let's use syringes if we must, but let's use them with care. Protect ourselves and our beloved babies.)
Yep, it takes guts.
It takes guts to choose the less traveled road when everyone around us, even  the ill-informed politically correct empowered women leaders, are cheering for storing our eggs in egg banks.
It takes guts to resist the trendy half-truths, when experts reduce our fertility to numbers, statistics, success rates. Telling us we should expect at least five rounds of IVF's before we get our prize.  (If we need the help of technology, wouldn't be better to expect one, rather than five treatment cycles?)
It takes guts to venture into the uncharted territory of our fragile human selves, to honor the fertility expert that has been patiently waiting there to be heard.
It takes guts to go the distance when at every step someone's peddling a short-cut of the quick fix.
It takes guts to stand still when our cousin Suzie is psyched about the latest breakthrough procedure that will chop up her ovaries into smaller and smaller particles.
It takes guts to see ourselves and our bodies as part of a seamless continuum, affected  not only  by every thought and feeling of our own, but every thought and feeling of everyone around us. Not to mention those who came before us.
It takes guts to look into the mirror of truth and see the solution to our beautiful problem staring right back at us.
It takes guts to look and not walk away.
It takes guts to conduct our own experiment on what's possible for us, rather than wait for the next double blind study designed to prove the obvious or to explain the unexplainable.
All of this takes guts. Now more than ever. Because the staggering number of beckoning back doors is tougher and tougher to resist.
Still, resist we must. Because the alternative to resistance is not an option.
It takes guts, but it's the only way we get to really pitch in to help save the world. By showing some guts. By using this burning desire to become braver than we've ever been. Showing up the way we never showed up before.
The alternative is to keep accelerating toward a more and more disconnected, mechanized, medicalized culture of baby-manufacturers.
Listen to this miracle of a song by the miracle of a human being, Leonard Cohen: How bad, how dark does it have to get, he asks each of us, before we wake up.
I struggled with some demons
They were middle class and tame
I didn't know I had permission to murder and to maim
You want it darker
We kill the flame…
Let's NOT kill the flame of our desire to stay alive and fertile.
Let's not go for "tame."
Let's not vote for "darker."
The poet T.S. Elliot tells us that, "Only those who risk going too far can find out how far one can go."
What would that look like to you if you risked going too far? If you risked finding out how far you can go?
*Technopoly –  a term coined by the late cultural critic, Neil Postman. is a system wherein technology is always viewed as positive and of value, with little consideration of its consequences. "It is the kind of friend" writes Postman "that asks for trust and obedience because its gifts are truly bountiful. But, of course, there is a dark side to this friend. Its gifts are not without a heavy cost."
Note: This post was inspired by my friend Ellie, and a  remarkable essay written by the publisher of the Chronogram Magazine,Jason Stern. Thank you, Ellie, thank you, Jason!