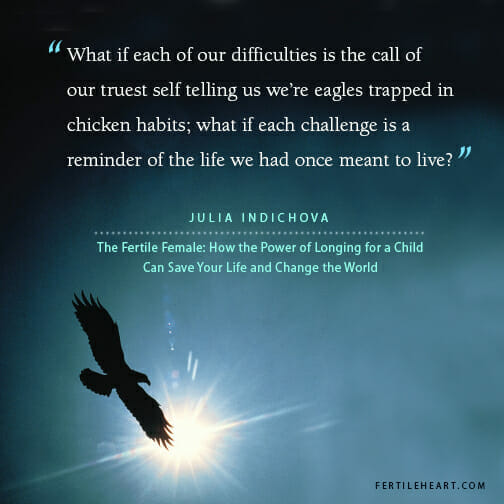 FindingFaith is the username of one of our bravest Moms; a gifted writer who wrote that great  Over Forty Trying to Conceive Lament on the Over Forty Trying to Conceive Forum. I also responded to you on the forum and this,  is the rest of my  response to you.
Dear FindingFaith,
Do you really want to find Faith?
Maybe for you, like for many of us, the search begins with listening for the call. The call of the Self. The Self which has been so patiently waiting to be found by us. The Self with an upper case S.
You might find her kneeling down, attending to the wounds of the injured child/soldier you left behind on the battle field of your childhood.
She, that injured child, is an eloquent writer, but right now she is using her precious gift to hurt herself with a stream of self-punishing words. As you know, here in Fertile Heart land we welcome all injured children to voice their truth. You did that brilliantly in your Forum post.
Who and what  will heal us?
As you also know I'm a great believer in therapy. I spent many a "50 minutes" weeping on my therapist's couch. So I don't doubt that your therapist's office is a healing sanctuary but at some point you have to walk out into the world the way Buddha walked out of the palace of his childhood. He walked out, saw for the first time the suffering all around him, and knew what he had to do.
You and I, we must walk out of the comfortable palaces of our lives over and over again and respond to the call of that upper case Self.  Perhaps this painful trek toward a 3rd child is really a road leading to that Self.
I don't know whether you can or can not have another baby, but I'm quite sure, especially after reading your lament, that it's not the child that will heal you.
I am also in no position to define Faith, but I do know what it is for me because I, too, like you, have been seeking it more earnestly  than I have sought anything else. I didn't yet know her by name, but I've relied on my best friend Faith through decades of loneliness, meaningless jobs, and what I perceived as missed opportunities. In those years all I had was Faith. Looking back I could see how loyal we have been to each other. In all those years I didn't give up on Her and She didn't give up on me.
We don't always recognize Her
Until one day She decided I was ready. That was the day the phone call came about my terrifiying FSH levels. I didn't recognize those numbers 42/42 as the call of my upper case Self. The Self I had been searching for since the beginning of my arrival here on the earth-home.
I didn't recognize the call but I did stick with my best friend Faith and let her lead the way. Here I am now, 23 years later with two astonishing daughters/teachers, a man so generous and kind I couldn't have dreamed him up in my wildest dreams. And work that thrills and challenges me each day to keep feeding my Faith and that upper case Self.
Because finding Faith is not enough.
I have to keep getting to know Her;  I need her help as I keep getting clearer about what it is that stops me as I birth my next creation, and my next unborn Self.
People like you, K, who engage, who hear, who are scared as I am, but dare to love each other anyway—that's what keeps me walking with Faith on this "gay great happening illimitably earth." (EECummings)
So the question of the week: What does having Faith mean to you?