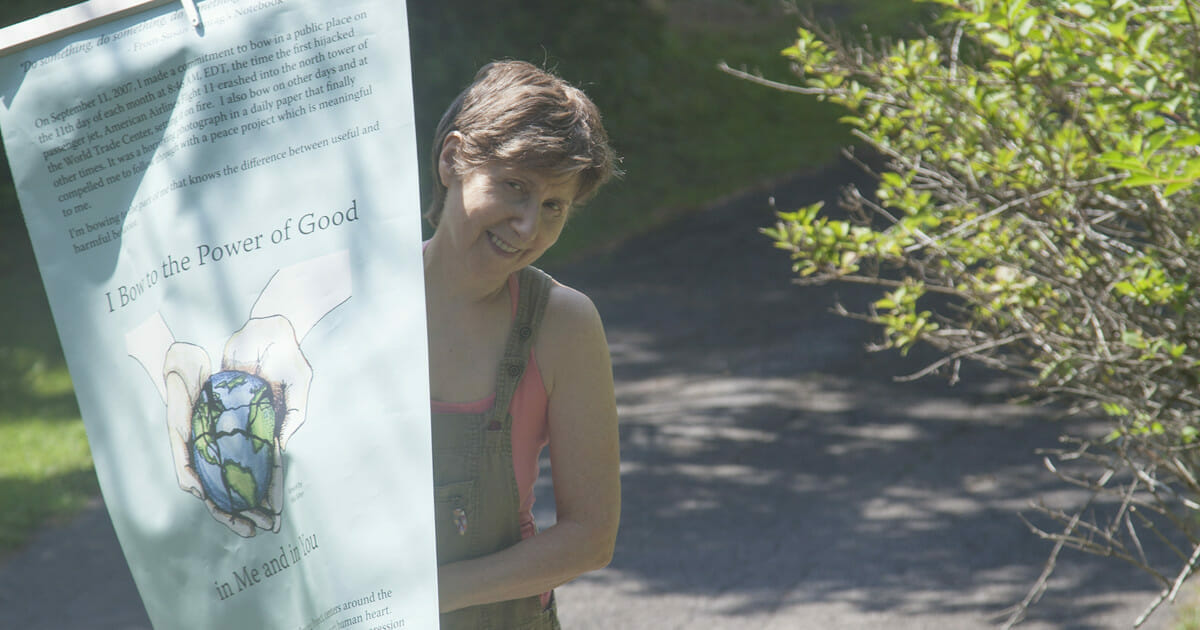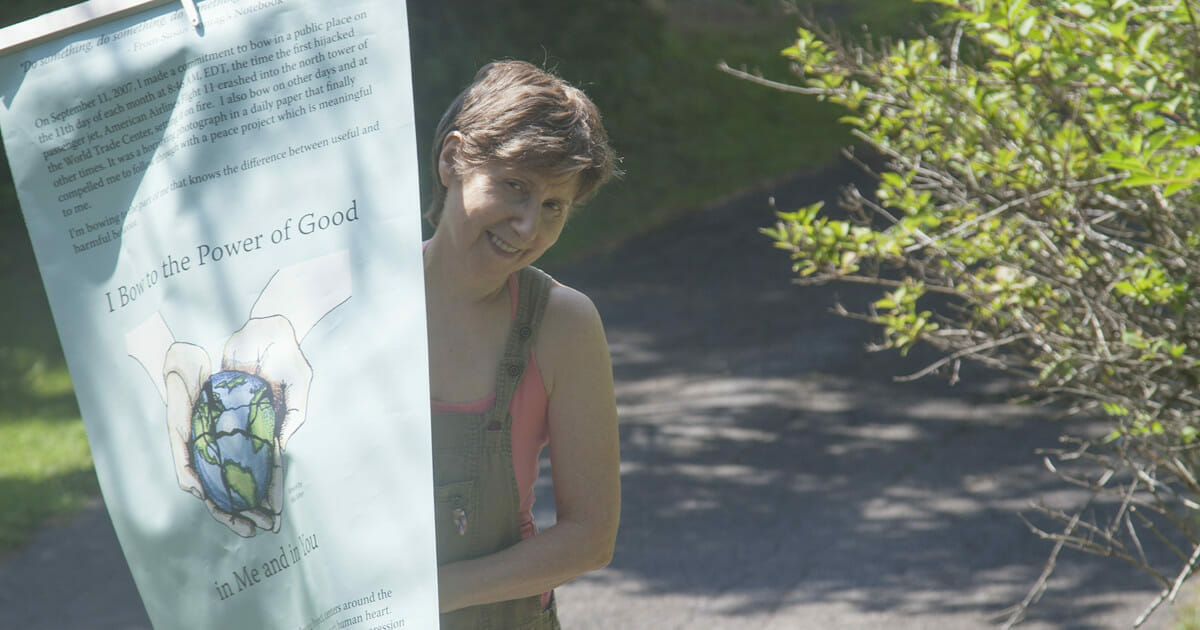 "Give a bow for me," says my husband, Ed, as I walk out the door. I'm late again for my date with Peace, my ongoing 9/11 Bowing Project. But Peace is patient. She waits for me.

Once in town, looking for a shade I walk into the real estate office across from my usual station near the Bread Alone bakery, and ask for permission to bow in front of their property.
"The boss is not in, but as long as it's not too long, it should be fine," says the kind-faced middle aged woman  in a cream colored linen jacket, seated at the desk near the entry way.
Shielded from the sun by the opulent umbrella of the poplar tree, I unroll my banner, attach it to the metal easel, and I'm ready to roll. To take a breath, lower my gaze and attend to the task at hand.
The boy I saw this morning 
Driving to my work station, as I once again thought about needing  to inject this monthly homage with more meaning, I suddenly  remembered the face of a small boy I saw this morning.  I came across his photograph when doing research for the title poem of my next book, The One-Heart Revolution. The child  was standing in front of a wreckage of rubble and flames, his expression reflecting a calm acceptance of the horror around him,  as his ordinary daily reality.
With head bowed, in my mind's eye I bring that boy to Woodstock. I bow with him and for him. Then I focus my gaze on the planting bed around the pit of the poplar and bow to each  exquisitely shaped blade of grass growing inside the iron guard.
Letting go of expectations
It's a relief, I say to myself, to no longer be expecting anyone to stop and read my banner or do anything at all.  This project has been such a perfect practice in letting go of expectations. Such a perfect practice in loving the lamenting, wayward child in me that is perpetually fantasizing about the arrival of almighty allies.
Although my gaze is lowered, within minutes of bowing my head, in my peripheral vision I spot a woman in a brightly patterned, loose summer dress. She has stopped to read my sign. Most people walk by without taking note or shoot a quick glance, scan a few lines and move on. Which is what I expect to happen now.
But the woman in the bright dress is not moving. I lift my head to acknowledge her, A  kind-eyed brunette, with shoulder length hair and friendly, gentle features looks back at me, .
"Oh..this is something I needed today,." she says, visibly moved.  "You really helped me with something I'm struggling with this morning," she adds emphatically, then takes a  couple of steps toward me, lowers her knees to ground, and bends her torso  in  the Buddhist expression of reverence and gratitude.
I squat down next to her.
I'm Julia.
Katie.
You're local, or a weekender?
No, I live here all year around.
Hmm. I thought I knew everyone in this small town.
Do you do this often?
Once a month, on the 11th. Usually closer to 8:46 in the morning when the first plane hit. But I won't be here next month. On 9/11 I bow in New York.
What you're doing is beautiful. You're right there with Susan Sontag and Thich Nhat Hanh. I can't tell you how much you helped me today.
You helped me, Katie, it's so nice to meet you,  Thank you!
An unexpected gift 
The beautiful woman in the summer dress has taught me the lesson the troubled child inside me  may need to keep re-learning for the rest of my life.  That great prize of recognition, which some part of me imagines will purge me of all real and perceived character flaws? The prize one day to be bestowed on me by the Magical Other?. That's not where my salvation comes from.
It's those occasional passersby who stop–lower  a drawbridge of attention, walk across that bridge closing the gap between my world and theirs, between giving and receiving- they're the ones that offer the ultimate solace we all seek. Together we  can then enter one tiny moment in time which  alters our view of ourselves and each other. A moment that may even alter our view of the possible.
I'll bow to that any day.
Any unexpected gifts came your way lately?