Rising to the occasion
We make commitments in moments of crisis; in moments of sudden insights; in a flash of compassion evoked by an image of a stranger struck by tragedy.
This is my eighth year of bowing for what I have come to call my 9/11 Bowing Project.
I have kept my promise (to myself), to bow in a public place on the 11th of each month since 2007 My agreement was to bow on the 11th, or if that was not possible, to make up for the missed day by bowing before the end of that month.
This month I came very close to breaking my word.
No one would've known or cared. I could've offered countless perfectly reasonable arguments for skipping the month and maybe even letting this whole project slide.
But here is what I'm up against.
Whoever else I am, I'm also a peace worker. A self-employed peace worker. My peace worker Self assists with my passion for the fertility work I do, my parenting, my marriage, my friendships.
There is less and less doubt in my heart, that that's who I am.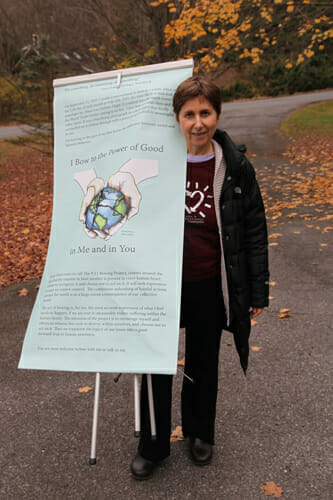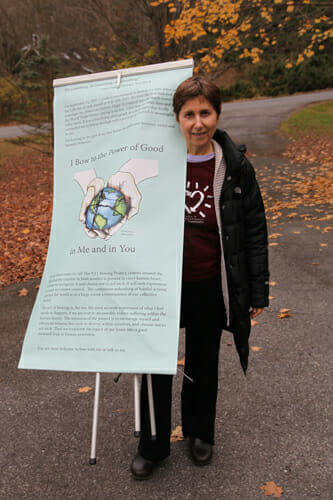 Perhaps the purest of all desires I've nurtured for as long as I can remember, has been the desire to diminish suffering caused by human hand. Astonishingly, the Fertile Heart OVUM practice has evolved into an effective tool for that work.
The vision of FertileHeartedHuman peace-birthing circles excites me. I'm oh so very, very slowly inching my way to meet that vision halfway. (That's the link to the  Facebook Page devoted to that project)
My commitment to bow, keeps me connected to that vision.
It reminds me why I walked out there with a small cardboard sign the very first time in 2004. (2004 was the first year I bowed, but the commitment to do it regularly didn't happen till 2007)
This peace project has a life of its own. I have no idea how it will unfold. I may or may not continue to bow. But when I decide that it's time to stop, I hope to do so as an adult, rather than a tired schoolgirl that would rather not bother with homework.
Why make commitments?
We make a commitment to enter a certain kind of relationship. Our commitments set the groundwork for the nature of that relationship.
If we can lovingly observe our behavior against the background of a promise, we get to know ourselves and the value of our relationships. Our relationship with ourselves and each other. Our relationship with our deepest personal and collective longings.
Commitments keep us connected to the object of our desire.
Which makes me realize that what I said at the beginning of this post isn't true. I did not just make the promise to follow through with this project, to myself alone. I gave my word to Peace. Because I want to show Her that I'm on her side. That I'm willing to speak up for Her.
Yes, the first and last think you and I need is a commitment. A decision to be someone we can count on. Having one or two people like that in our lives can make all the difference.
Made any commitments lately?
Any surprising f*ck you Orphans or unexpected Visionaries showing up for you? Could you embrace them all; hold them close without judging and guilt-tripping yourself? Could you simply see and love them for who they are. Children looking for a Mom like you!