The power of the Shame Orphan
My last blog was about the courage to speak up for what we value, which appears to be a topic that may need a bit more unpacking.  One of the stunning, generous comments by H. inspired the continuation of that dialogue.
This is part of the comment: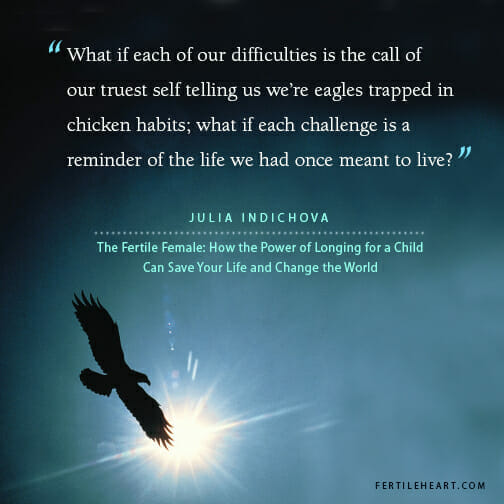 "Also, thanks for the prompt to look at why I haven't engaged with your Facebook page. Shame is a powerful force in my life, so I do really need to look at that. Right now, the answer I am giving myself is: I'm needing the privacy, like the inside of a chrysalis, to show up at this in all my vulnerability. It's a process that I am sharing only with my closest friends and family, not all the acquaintances and colleagues I am connected with on fb. However, it's a good point that some of them may be suffering the shame of 'infertility' in silence and without the support, richness, and life-affirmingness of Fertile Heart. I wouldn't wish that on anyone."
And this is my answer:
I, of course, fully understand the need to remain private. Most readers of this blog, I imagine, would say, if not out loud, to themselves:
Yeah, me too, I don't want everyone to know about my fertility woes, I have to protect my privacy.
Remembering the crushing weight of shame
after my own diagnosis, I certainly understand the need to be careful about what we choose to share and whom we choose to share it with. I can easily recall the shame of wanting something so badly;  the shame of my perceived brokenness that set my apart from all those unbroken perfect Others.
Oh, the stories of the orphaned child!
I also remember the pivotal moment in my journey when I understood that healing the Orphan of Shame was one of the gifts of this sacred assignment. I knew that although that Orphan may never quite vanish, this was my once in a lifetime chance to take her hand and escort her into a brand new reality.
My most fertile Self and my daughter were conceived in that moment.
No. I was not yet pregnant, but the shift within was palpable.
I knew then, that I was going to be a mother of two, no matter what. I understood that the manner in which the child arrived was less important than who I got to become as I lived my way toward welcoming that child into our family.
You and I, dear H. had a conversation not long ago, in which you graciously shared with me that although you've experienced many different healing modalities, you found "my approach" especially healing.
Here's a secret.
What makes our dialogue and our teleconference circles healing is not "my approach." It's true, that the Fertile Heart OVUM work has by now evolved into a healing modality with its own language, philosophy, specific tools. But it's not a "system" that works the way penicillin cures infections.
What makes our circles healing is our relationship. What makes it healing is what I can hear in your voice, the discoveries we get to conceive because of who we are, and how you allow my words to land in your body. Sometimes those discoveries, as in T's wonderful story about her wacky hormones, are quite prosaic. But they can change the course of your journey and it's our relationship that allows it to happen. To conceive the inconceivable that we may not be able to conceive with anyone else.
What makes our circles at times more powerful than years of drugs—what makes any encounter between people healing—is the level of intimacy we dare to risk.
The love we dare to feel for one another.
I'm hugely grateful for having a job in which I get to meet people like you and love them.
For me, there is no greater gift we humans can receive than a chance to meet one more person we can love.
Now to the braver questions and braver answers.
Does it matter to me that most people are ashamed to say hello to me on Facebook and acknowledge the value of the work which they claim changed their lives?
Yes, it does and YES I bow to it as a part of my glorious assignment. Our wonderful Fertile Heart team keeps refining our outreach efforts through exciting new projects such as the Fertile Heart Affiliate Program, and more people are learning about us.
Still, does shame make it a lot harder for me to reach the woman prepping for her 10th IVF cycle?
Yes, it does.
Then again, it's not about me, or you or our engagement on Facebook.
It's about what we get to co-create with the people who cross our path on this wondrous adventure.
It's about how much more fertile we get to be, when you and I are brave enough to shamelessly love each other. When we are free enough to be shamelessly grateful to each other and express that gratitude through action.
When we become so clear about who we are and what our task is on the human trek, that we don't give a damn about our four hundred Facebook friends who most likely have their own lives to live and couldn't care less about our comments. Comments which, after all, can reveal as much or as little as we are ready to reveal about our connection with the said page.
The stakes are high for both of us. 
If we don't find out what it is we're truly ashamed off and begin the journey into a braver reality; if we don't ask for what we need in order to be born into our next Self, there is little hope that we will reach the one person that will hear us.
Because, as we both know, sometimes that's all it takes.
So…valiant Fertile Heart Visionary Mamas, what is it, that is so shameful for you, and for so many of us, about our longing to love a child?