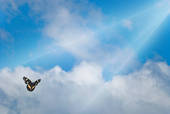 Chances are, this year I will be just as scared, just as frustrated, arms flailing, grasping for a rescuer. On bad days I might feel as jealous, and petty as I did last year. As I perhaps will intermittently keep feeling for the rest of my life.
Except.
Except that I'm also quite certain that my excursions into Orphan-alley will be shorter this year.   This year the arms  of the Mama in me are stronger than the year before, her embrace wider. Allowing me to let go, sink deeper into the softness of her compassion. The letting go today is more complete than yesterday.  Her understanding of the Orphan-roots of my erroneous actions reaching far beyond the explanations I would've offered in years past.
This is good.
This is growth.
This allows me to claim a quiet dignity not so easily shaken by the madnessses of the moment.  It gives me a more solid ground to stand on. Lets me walk out into this year with a slightly steadier step.
It frees up a few more ounces of energy to spend on the possible!
And you? Anything shifted inside that makes your step a little lighter? Or maybe more challenging? Maybe the labor is more intense,  the contractions now stronger and more frequent now that you're gettig more fertile and more alive?