Here, we've gathered a list of fertility and infertility books to help you through your journey. Browse Fertile Heart's picks below.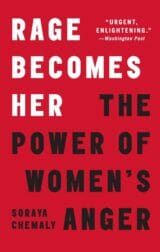 Rage Becomes Her: The Power of Women's Anger
By Soraya Chemaly, Atria Books, 2019
In Rage Becomes Her, Soraya Chemaly argues that our anger is not only justified, it is also an active part of the solution. We are so often encouraged to resist our rage or punished for justifiably expressing it, yet how many remarkable achievements would never have gotten off the ground without the kernel of anger that fueled them? Approached with conscious intention, anger is a vital instrument, a radar for injustice and a catalyst for change. On the flip side, the societal and cultural belittlement of our anger is a cunning way of limiting and controlling our power—one we can no longer abide.