Wonder of Wonders, Miracle of Miracles
Whenever I share a journey of one of the Fertile Heart Moms and Dads who birthed her baby through adoption, I think of the lines from Fiddler on the Roof,
"…of all God's miracles large and small,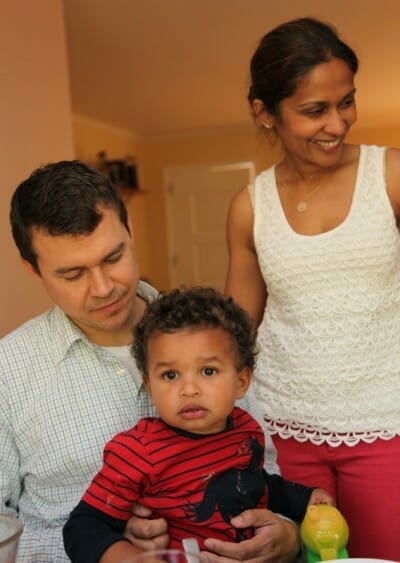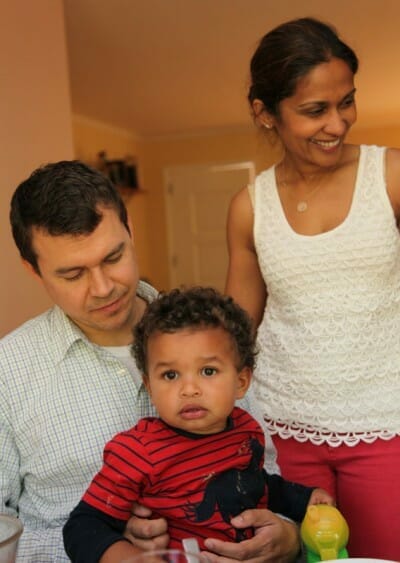 the most miraculous one of all,
is the one I thought would never be,
God has given you to me."
Staying the course
May Sharmini's beautiful note about her adoption journey be an inspiration for staying the course, whichever path toward your child is the true path you choose to be walking today. .
A roller coaster ride
Hi, Julia,
The last couple of months have been such a roller coaster ride. I almost picked up the phone to call you so many times and then I turned to my Fertile Heart work. I have no doubt that this announcement would not have happened without you and without Fertile Heart.
Recognizing the Orphan when she showed up so frequently over the last couple of months was a tremendous help to me. I was able to give her the space she needed to be heard and whenever I did that, my Visionary showed up and I found my strength and I  knew in my heart this was part of the journey.
They look at me like I'm crazy
One of the greatest lessons I learned from the Fertile Heart work was that "Life is always right". I am exactly where I need to be. So many of my friends who have had to go through this road tell me, how can you not be resentful, you got dealt a crappy hand, you are "infertile" that's a tragedy they say. You've been trying to have a baby for nine years, that's horrendous, I am told.
They look at me like I am crazy when I say it's a gift. I have received so many gifts along the way and I think of the woman and mother I am today vs. the one I would have been nine years ago and I know that I was meant to walk this road.
Our adoption journey was not for the faint of heart.
Christopher's birth mother changed her mind twice and the second time it was after he was with us for almost 3 weeks! She said it was too hard and she could not live without him and wanted him back. So we had to give up the little guy (due to terrible adoption laws in PA). I don't need to tell you how devastated we were. Then she changed her mind again 3 weeks later stating that when she is with Christopher she had this really strong feeling that he was meant to be with us! That Tom and I were meant to be his parents.
The night my son was born
Talk about fate, R. hand- picked us; she did not see any adoptive parents she wanted to place her baby with in PA so she went to the agency website and picked us out, just us, out of hundreds, perhaps thousands of couples, (agency has 34 offices), maybe that was a sign??!!! I think about all those women who are so desperate for a biological child and I say well the night my son was born I woke up with the most intense cramps I have ever had. Then we got a notice from the agency that he was born that night!
After I met Christopher's birth mother R., I felt this incredible connection to the baby, I would do imagery with an umbilical cord linking my belly to his. The cord was gold in color and so strong. I loved him from the moment I laid eyes on him. Our connection was so strong that his birth mom felt it and drove him back to NY from Pittsburgh and gave him back to us.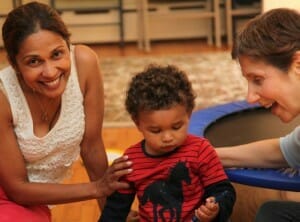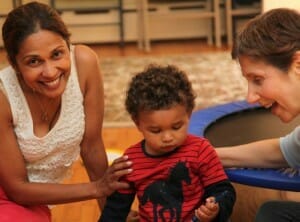 He was due January 15th exactly one month before my birthday and was born two weeks late. R. signed him over to us the second time on April 15th and he was officially ours on May 15th. I think maybe the 15th is a big day for me!!!
The gifts keep coming
The gifts keep coming Julia, my very young son has taught me to live for each day for each moment and to treasure and enjoy it!
It is such a challenge for me always having doubts about things I could have said and done differently in the past and he forced me to focus on now! I have received so many gifts along the way and here I stand (not without some self inflicted bruises) with the ultimate prize.
As I write this note to you I am reminded of one of my favorite poems by Robert Frost, The Road not Taken:
Two roads diverged in a wood, and I-  I took the one less traveled by,  And that has made all the difference.
Tom and I would love for you to meet him in person. We will make a trip to Woodstock in early fall if that works for you to see you.
Love you,
Sharmini