Red Hot and Delicious
My friend Dana loves the Red Hot Blues corn chips.
So do I. I could eat an entire package in a sitting.
A handful of Red Hot Blues chips are fine with me. Too much spicy food is not. It's way too stimulating and I'm stimulated enough without those chips.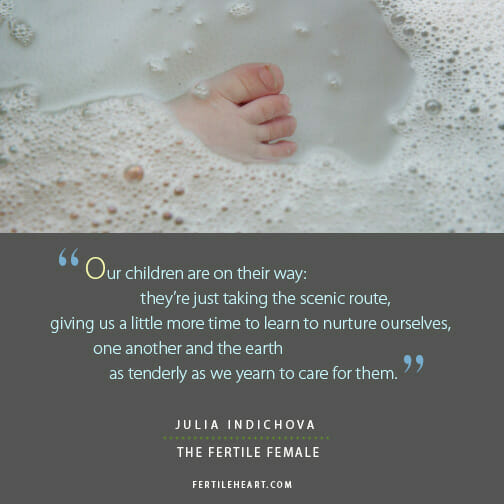 But when Dana opens that package and dips a chip into a bowl of home-made humus, I have to slow down, breathe and silently ask myself whose hand is reaching into the Red Hot Blues bag.
Another kind of feasting
I do my best to keep recognizing when I'm reaching for junk food of a different nature. More damaging than Red Hot Blues. The junk food of victimhood and helplessness. The junk food the Orphan feasts on to validate her Orphanhood and her reality.
Sharing my  day to day challenges with people who'll hear and understand us is one thing.
Compassion in action
The Fertile Heart practice is compassion in action.
Compassion toward ourselves and others expressed through continuous, spontaneous acts of kindness. Self-loving and Other-loving kindness.
The work is also about sitting up and paying attention when we find ourselves pulled into the Orphan alley by a tempting stream of someone else's lamentations.   From time to time, let's remind ourselves that this is not an ordinary "infertility community." That we have a practice and a toolkit to reach into when something hurts.
Why we built it 
My steadfast team of helpers and I have built this sanctuary with the intention of offering all hungry baby-making travelers a safe space to refuel and some real provisions for the journey.
I've had the huge honor for a couple of decades now to sit, weep, laugh and celebrate the many, many different paths to parenthood with the Moms and Dads who kept walking until they got to their desired destination. I have rejoiced to see them use this space and our offerings to birth joyful lives.
Don't get stuck there
So my sweet friends, if a wounded child shows up at your doorstep, bring her into our circle. Let's hear her out.  Then make sure you don't get stuck in the dead end street and then try to convince every passerby that the street you live on is the only attainable dwelling place for you and for them.  I received two birth announcements in the last couple of weeks: Rather than sharing the thank you notes, I decided to go through some of the emails and comments of these Moms, and I chose one from each of them to share with you. I thought their tone and their words would illuminate what I'm attempting to clarify in this post.
From RaeRae (little boy bon in May)
"Thank you so much for hosting us and teaching us on Saturday.  Your work has been an incredible gift to me in more than just my baby-making journey.  It resonates w much of my learning that I am doing right now to have a more full and enriching life.  I feel lucky to have you as one of my powerful teachers.
Questions for the call:
Imagery and Body Truth:
I had already been doing some of the Imagery from CD 1 before we met.  At the class, you suggested to start Swirling Globe of Light, which I loved from the workshop.  But, I can't figure out which CD that is on (i have imagery CD 1 and 2)  Is it called something else?  I loved that imagery and would love to continue it.
Also, you had suggested to pair it with Circle of Protection, which I had done for a week before I came to the workshop.  I loved it and was wondering if there was another one to weave in now, or do you suggest just continuing it?"
From Warrior Beagle (Twins, boy and girl born last week)
"…I wish there was a call tomorrow night. I am having a really hard time today. We went in today for the first of our luteal blood checks (research purposes – estrogen/progesterone – they don't tell you results) before "the test" on Thursday to find out if I am pregnant. My head is very spinny and my heart is intermittently racy….
I was going to race to acupuncture this afternoon, but stopped myself. Instead, I gave myself a dose of Room of Fear, Healing the Heart (my mainstay), and (for the first time since my last miscarriage) Nine Hearts. The last one is difficult for me, because it requires a certain level of commitment due to its length and the fact that it visually spans the entire length of a pregnancy. But I did it. Room of Fear was comforting, because I had my good friends Erica and Paras, my sis in law Deanna, and my mother in law all wrapped around me and supporting me for as far as I want to go on this journey."
What does your emotional junk food look like and which of the Fertile Heart tools could help you switch to more nourishing emotional edibles.