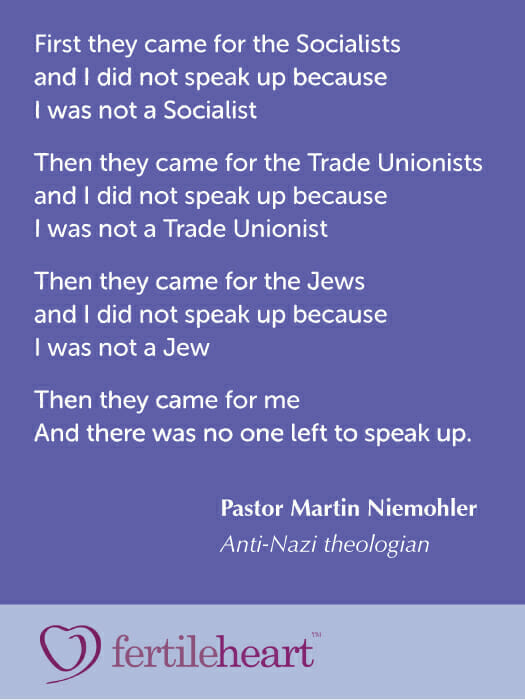 The quote in that image is one of my favorite quotes by Martin Niemöller, about our moral obligation to speak up against injustice. Niemoller, was a Prrotestant pastor who spoke up against the Nazi rule.
Although WW 2 ended 70 years ago, the need to speak up remains as acute as it was then. It's easy to rationalize our silence, but part of us knows better.
This week is Infertility Awareness Week with much rhetoric about the needs of the "infertile population" and the "devastating disease" of infertility. Infertility is, of course a symptom of myriad underlying root causes—not a disease. I said enough about this to fill another book. (Infertility: Devastating Disease or Lifesaving Opportunity?)
Today all I ask is, Who Will Speak Up for the Nor Yet Born?
The problem is NOT IVF or any other Assisted Reproductive Technology. There is certainly NO SHAME in using medical technology to help us achieve a dream when all else fails.
No, in-vitro or ICSI or egg donation is not the problem. Some of us need such intervention. Many of us use it because we can. Some of us do need it. Many of us do not.
Still, the problem is not assisted reproduction.
The problem is
GREED
LACK OF INTEGRITY
THE FEAR OF SPEAKING AN UNPOPULAR TRUTH.
THE TERROR OF MAKING OUR FRAGILE HUMAN SELVES VISIBLE to other fragile human selves
worst of all
INDIFFERENCE
that comes after we got what we wanted. Life gets busy with babies around.  Once our own battle is won, it's human to forget others are still on the battle field. I do, I really do understand that. I've made that mistake countless times in my life.
And yet we must remind ourselves and each other to speak up because
 Who Will Speak Up for The Not Yet Born?
Will the infertility advocacy groups bankrolled by IVF clinics?
Will the mind body therapist who tells me her children could've been born without technology but she was just impatient. So her salary is now paid by a large IVF clinic. And her beautiful children inspire others to walk her chosen path.
Will that famous fertility acupuncturist whose majority of referrals come from IVF clinics?
Who will speak up for the NOT YET BORN? Aren't they, the babies we love more than life itself, aren't they the most vulnerable among us?
Aren't they the ones who'll pay the price for the well-oiled machine of the $10 billion and rising Infertility Industrial Complex?

 Who will speak up for the Not Yet Born?
Will you?
#fertileheartspeakup