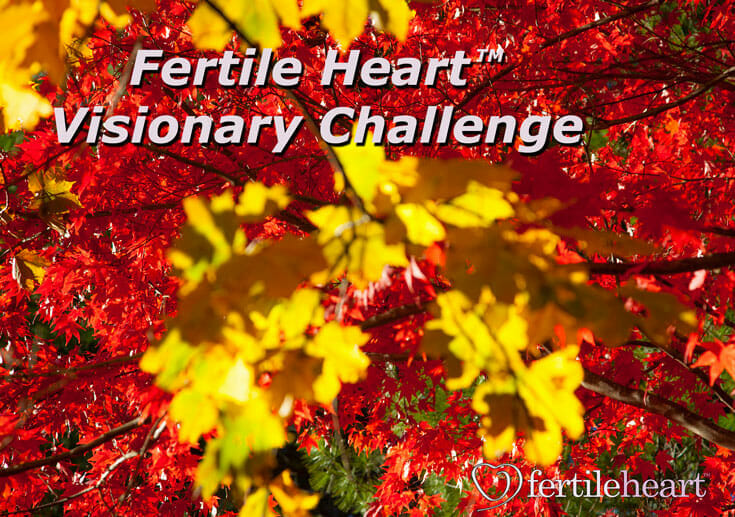 What about that subtitle?
I'm certainly not into pain as in suffering. I'm talking about the temporary but unavoidable pain of healing. Because, you see, the orphaned part of us isn't afraid of the pain of not getting what she wants. That's familiar ground.
What she's afraid of is the ache that rises when after years of longing to be found, someone—some kind, competent adult—deploys a search-and-rescue mission and finds her.
The idea for the challenge was sparked by a question that came up in one of our fertility support teleconferences. Everyone is, of course, welcome to join. If you read some of the awesome comments, you'll catch on pretty quickly to what this challenge is all about. And if at some point you want to engage more fully, you can always check out f the basic Fertile Heart OVUM tools. For newbies, The Fertile Female could also get you started.
What we're doing here  in the The Fertile Heart land, is using the tools of the  OVUM practice, imagery, Body Truth, food, and the support of our stunning community, to gradually turn that initial pain that might rise up, into labor pain. To, breathe through the contractions and birth that competent adult version of ourselves.
The part of us strong enough to feel, think, choose and act for ourselves and become our own kindest ally.
For the first part of this challenge, we'll be making a commitment to:
Choose one imagery exercise from The Fertile Female or either of the CD's. (Please refer to the chapters in the book or the CD's if you need clarification on the When and How of imagery practice.
Articulate why we have chosen that particular sequence
One Body Truth sequence (for this one you don't need to clarify your choice, but do try to sample sequences you haven't worked with before.  Make room for surprises. (If you are including yoga poses in your practice, do your Body Truth prior to your yoga.)
Conceive one self-adoring, Visionary rooted action we intend to take the following day
The point of this challenge is of course to observe with utmost compassion. Never, never, never, never do we let the Judging Orphan take the wheel.
Okay, awesomest FertileHearted Visionary Mamas, let the love roll in.