Could losing weight eliminate the need for IVF?
Since we do seem to need proof of the obvious, here comes another study that shows the healthier we are the easier the baby making road.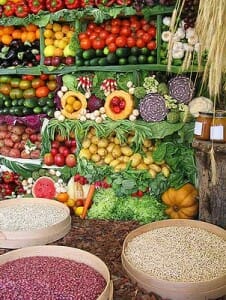 A recent study at Guy and St. Thomas' NHS Foundation trust published in the Journal of Human Reproduction found that higher body mass index (BMI) for women undergoing IVF treatment was linked with higher rates of miscarriage.
A study included more than 400 women who were going through IVF between 2006 and 2010, with all of the women undergoing single  blastocyst  transfer  which is linked with a higher pregnancy rate and lower miscarriage rate compared with single embryo transfer.
27 %t of the women miscarried   less than 23 weeks into their  pregnancy. Women who had a body mass index higher than or equal to 25 had more than double the risk of miscarriage.  In the group with normal BMI, 20 percent of the women miscarried. When the scientists subdivided the women into overweight and obese, they found that both groups had comparable miscarriage rates: 37 percent and 42 percent respectively.
The doctors in charge of the study were "amazed" to see such a clear connection between weight and IVF success rates.  Dr. Allan Pacey, a fertility specialist at the University of Sheffield was quoted saying that  women should aim for a healthy weight before undergoing IVF. Hmmm.  If losing a little weight could do the trick, how about aiming for a healthy body, heart and mind? Could it possibly  eliminate a need for IVF?
Then of course we also know it's always a much more interesting story than just a story of losing the requisite pounds.  Sometimes the hungry heart needs to get the nourishment it needs and sometimes that nourishment does the trick.   As with our beautiful mom  in the Fertile Heart Video, the baby can also show up  before the weight comes off.
It's then the baby that inspires the new mom to become healthier and thinner. (Nadine, the mom in our video has shed lots and lots of pounds since that interview)
I suppose it's a good thing that studies are catching up with commons sense. Why should we allocate resources for cleaning up the air for these children beaming down when we can spend it on proving the obvious and then still encourage women to continue with possibly unneccessary treatment ?