Free Class – Infertility: A Colossal Crisis or Monumental Opportunity?
with Author Julia Indichova
Thursday March 3, 2022
4:00PM EST (NY) / 9:00PM GMT (London)
What will our fertility challenge, or for that matter any other life challenge ultimately become? A Colossal  Crisis or Monumental Opportunity?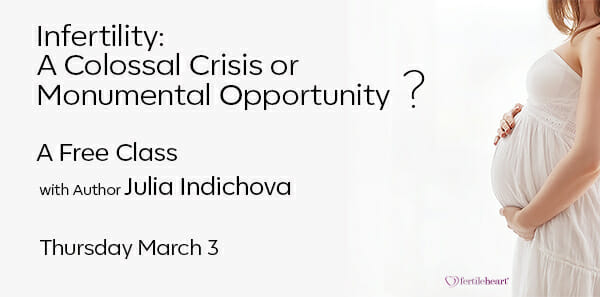 Yes! It hurts and DEFINITELY feels like a colossal crisis. Longing for a child that we wish we could hold in our arms right this very minute, hurts a lot.
It was painful for me, and every single one of the thousands of women I've worked with.
Sometimes, as in the case of endometriosis, the pain is not only emotional but physical.
Most often, although there are imbalances that need attention on a physical level, they're not YET severe enough to cause physical pain.
It's our heart that aches more than anything else.
The good news is that it's the intelligence of our heart that can also point us in the direction of healing and guide us in turning this Colossal Crisis into a Monumental Opportunity. That's what the FertileHeart OVUM Practice is about.




And that's what this experiential live class—Infertility: Colossal Crisis or Monumental Opportunity on March 3rd at 4:00PM NY Time—will be all about.
Come, bring a pen and paper (or a writing tool) and more importantly: your "whole, undistracted, openhearted, openminded Self.
Here are some things we'll cover:
Three most common mistakes that can keep us from getting pregnant
Three fertility drugs money can't buy
Why today, more than ever before, we must become our own fertility authority & how to get there
 A taste of the FertileHeart toolkit
Can't wait to hear your voice. The most exciting part of these calls for me is always the opportunity to engage with individual callers. So I hope you'll send in your questions, and let me know if I can engage with you directly during the session!
Julia




"Dear Julia, I am writing to introduce you to our little miracle…the result of an IVF/FET. Yes we got medical help, but I truly, truly believe that the skills you helped me cultivate within myself are what brought us this success. I relied very heavily on the lessons in your books, from your workshop, and from the phone calls.
Thank you, a million times over, for the work that you do!". – Lisa F. Montreal, Canada
S. and I really loved the workshop. He and I have been fighting a fair amount since experiencing difficulties getting and keeping a healthy pregnancy. Last night, after your workshop we slept in each other's arms. It was lovely…