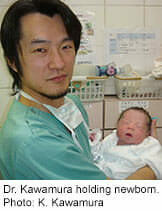 My take on the latest infertility treatment published in Proceedings of the National Academy of Sciences
A 30 year old woman, along with twenty six other infertility patients, recently had her ovaries surgically removed, cut into small cubes and then placed into her fallopian tubes after the ovarian tissue had been treated with egg-stimulating drugs.  The young woman gave birth to a baby boy, and the treatment, according to Dr. Kawamura – the fertility specialist who developed the technique – is expected to be "widely available throughout the world."
The 30-year-old new mom and the twenty-six other women who have undergone this experimental procedure were diagnosed with ovarian insufficiency, a diagnosis I have seen successfully resolved in countless clients over the past two decades as a fertility educator and activist. (See case history at this link.)
Ovarian insufficiency, once known as POF (premature ovarian failure) was my own diagnosis 20 years ago.  It refers to elevated levels of the follicle stimulating hormone (high FSH), an imbalance that usually does not respond to synthetic stimulants. Since it's a diagnosis that doesn't do well with conventional treatments, egg donation is usually offered as the only medical solution for women with POF. Some women are told they have anywhere between 1 to 10% chance of conceiving.
Several years ago, I renamed POF to stand for Plan On Fighting, rather than premature ovarian failure.
With women ranging from late twenties to early forties, I've seen ovaries, including my own,  bounce back to life after a generous physical and emotional overhaul. Since the roots of the imbalance continue to be poorly understoond by the current reductive science of assisted reproduction, as in the case of the Japanese experimental procedure, women often resort to desperate measures in the hopes of achieving a successful pregnancy.
As I see it, a patient, especially someone as young as the Japanese woman, who submits to having her ovaries surgically removed in a highly experimental procedure, not only loses vital organs that play a key role in her overall endocrine function, she forfeits any possibility of a natural pregnancy. She also forfeits the healing which a POF diagnosis can offer.
The fact that seasoned fertility specialists like Hailey Hall, an obstetrician-gynecologist at Houston Methodist Hospital, and others welcome this questionable technique as "exciting" news tells me how far practitioners of assisted reproduction have come from the view of the human organism as a mysterious, inseparable, dynamic whole.  It appears as though in the brave new world of ART, we are moving closer and closer to viewing the human body as nothing more than a collection of well designed parts to be dissected with little regard for consequences to the patient's overall level of health.
Click here for additional stories of natural pregnancies after a POF diagnosis.