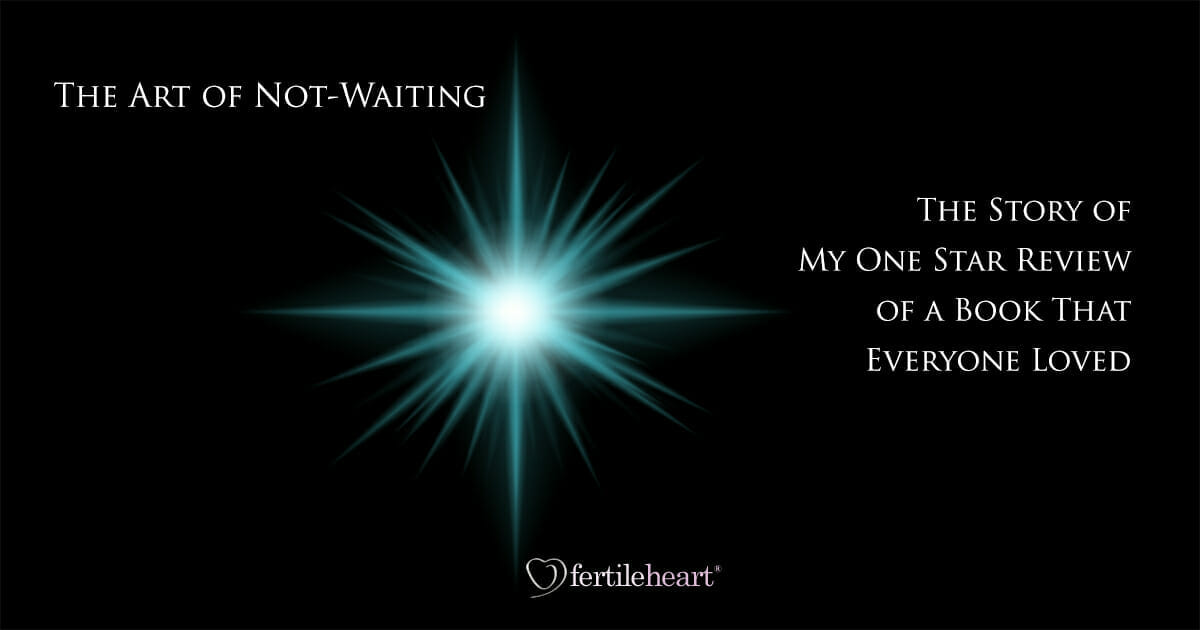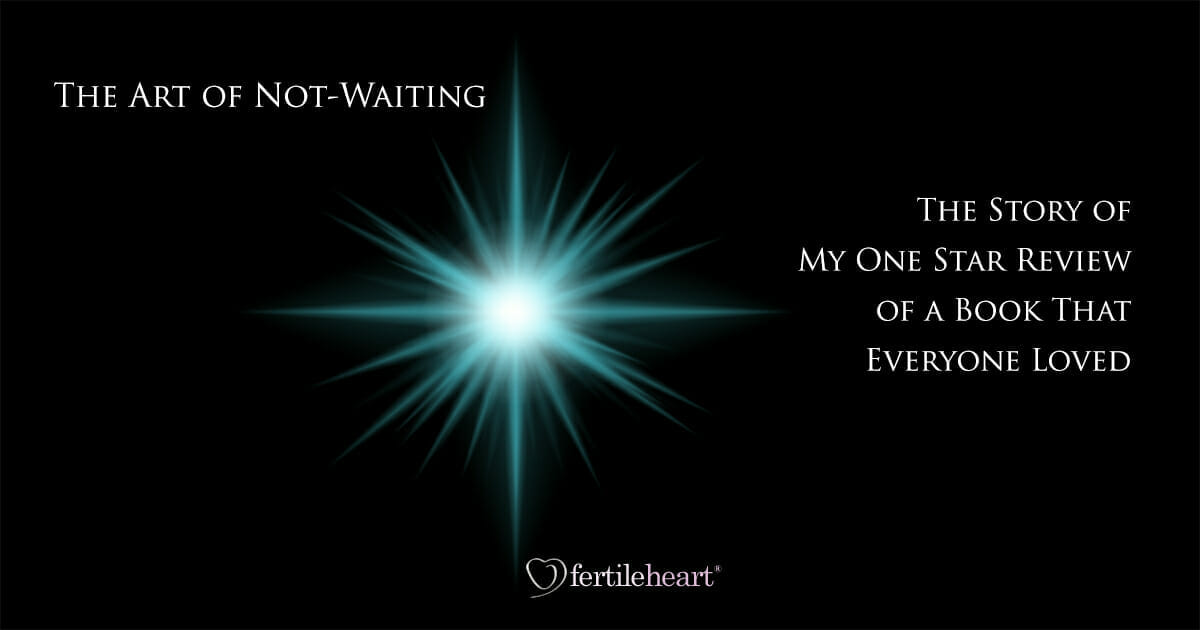 Note: This is not a story about holistic versus allopathic medicine. It's a story about how far we venture into the warzones of our own bodies and hearts when facing a fertility challenge. It's about who we become and what we speak up for as a result of our own experience.  It's about how we prepare for the conception, gestation, labor and birth of incoming generations.  The stakes are higher than most of us dare to acknowledge. Resistance to conventional wisdom of half-truths is mandatory.
 The Risk of a Single Star
Poignant Memoir: Read It but Don't Let It Get You Down. That was the original headline when I first posted my review of—The  Art of Waiting: On Fertility, Medicine, and Motherhood by Belle Boggs—on  Amazon.
It would've been so much easier for me to click on the five star rating after writing that headline, and join the accolades for the lyrical  passages, the exhaustive research, the engaging observations, in a book, which aside from being a memoir, also claimed to be "a brilliant exploration of natural, medical, psychological, and political facets of fertility."
Had I done so, clicked on  five stars, instead of one, I could have saved myself from becoming a target of—attacks  on my character, vitriolic comments from members of the author's family, the  book's publicist, and a host of other people closely linked to Ms. Boggs or her publisher.
But here is what's stunning about risking that one star.
If you were to read any of those comments after my Amazon post through a lens of someone who's been around the "baby-business" block a few times, you might recognize a slice of the 'cultural history of infertility" missing from The Art of Waiting.  And now that I've had some time to catch my breath, I'm able to look back at the last several weeks of this "war" and see it as a collaboration.
An unintended collaboration.
Unintended, yet eminently useful. Whether or not anyone will ever see it that way, is irrelevant.  For me, those disparaging responses were more affirming than anything else I could've orchestrated to illustrate the key misleading messages of The Art of Waiting.  Misleading messages that have far-reaching consequences.
My detractors–especially  the people who have been patients in the baby making world–have shown me  how urgently we must challenge the– yes! lyrical, yes! masterfully crafted, but ultimately superficial— medical, psychological, and political attitudes reinforced by Ms. Boggs' narrative.
How I Became the Enemy
A few weeks ago, I got a Google Alert which read," Review: The Art of Waiting: What to Expect When You're Still Not Expecting.  Belle Boggs tells a personal tale of infertility with a wide scope…"
I clicked on the review and in the third paragraph read: "I thought quite a lot about what normal is as I was reading "The Art of Waiting: On Fertility, Medicine, and Motherhood," Belle Boggs's thoughtful meditation on childlessness, childbearing, and — for some — the stretch of liminal agony in between. Her book is a corrective and a tonic, a primer and a dispeller of myths. It is likely to become a go-to guide for the many couples who discover that having children is not the no-assembly-required experience they were expecting. They will come away enlightened, reassured and comforted by her debunker mentality in between."
The rest of the article brought up pretty much the same points I've been reading in books about infertility for years.  The "one in eight" statistics, the accompanying shame, the isolation, the horror stories, the profiteering and outrageous costs not covered by insurance.
Was this, I wondered, another book to raise the waves of panic that wash over us when we're faced with a diagnosis?  Another book about how awful this "disease" is, and how our time is running out? One more book perpetuating the lie at the center of the "unbiased advocacy;" the politically correct grassroots movements for the greater good, which happen to be sustained by donations from IVF clinics?
Encouragement from a Facebook Fan
I posted a link, along with my gut response to the NYT review on the Fertile Heart Facebook page. Sure enough, a bit later, a woman replied after reading the piece:   "Heartbreaking but exactly where my husband & I have been for years…loss after loss…no rainbow baby…just sadness & wishing for what may never come true!"
This was precisely what I've dedicated the last two decades of my life to debunk. This was what I feared would happen when my clients, the people I care about, were to read  this universally acclaimed, "brilliant exploration of the natural, medical, psychological and political facets of fertility."
Yes, I wanted to read the book and see what it really said.  I wanted to read it and if need be, speak up about it before the fifteen minutes of spotlight were over and no one gave a damn.
The Golden Notebook, our  independent bookseller here in Woodstock had already sold the one copy shipped to the store.  I then realized that as an industry insider, I could get a copy from the publisher.  Chatting briefly with the woman in the PR department, I mentioned that I was teaching a group the following Tuesday and then a workshop and wanted to tell people about the book. The young woman offered to both send me a PDF and to overnight me a copy.
Eight "Infertile Women in a Basement"
"No need to overnight it."I replied. "It's better for the earth if you send it regular mail. The PDF is sufficient." (This conversation became the lynchpin for the ambush that followed my post)
I suppose I could've also said, that what I have read so far about it in the New York Times didn't feel particularly enlightening, and if this was a tale about how broken we are, I want to make sure the woman looking for a "corrective and a tonic " knows "agony" isn't the only way to live her way to motherhood.
I opened the PDF and began reading the first beautifully crafted essay about the return of the thirteen year cicadas and the reproductive lives of captive lowland gorillas.
But when the author reported the dialogue in the support group she attended for the first three years of her journey, which convened  in the basement of a hospital,  something about the tone of that conversation sounded all too familiar. "Test tube baby, says a young ER doctor who has given herself five at home inseminations and is thinking of moving on to IVF…She has driven seventy miles to talk to seven other women about the stress and isolation of infertility."
I fled one of those groups after my own diagnoses. I walked out and never returned. My faith in my own power to defy the certainty of studies that proclaimed me irreversible infertile, was much too fragile. And part of me sensed that had I stayed, I may not have had the fortitude to keep walking in the direction of a child that everyone agreed was not conceivable.
The Bias of Our Stories
As I moved through each of the essays in The Art of Waiting, it was clear that the accolades describing—the  poignant stories, the likeable narrator, the exhaustive research—were  well deserved.
What was also clear is that the author's research and consequent conclusions were—as with all of us humans—shaped by Ms Boggs' conscious and unconscious bias. Her own story.
The story that exploits women's fears of childlessness so convincingly, that even someone as brilliant and well intentioned as Belle Boggs has bought into that tale without much resistance.
It's a story in which the body's refusal to deliver a child on our time table is not a protective response to repair an imbalance but a sign of brokenness and betrayal. (Pg. 18 I can remember wiping away spots of blood a few months after stopping the Pill….I wasn't pregnant; the spotting was actually a symptom of my infertility, masked for so many cycles by birth control.")  How is that? How exactly did we leap from spotting to infertility? Would examining the effect of long term birth control use be a good start for decoding the message of that symptom? Any other ways to wake up a sluggish ovary, than telling ourselves we're infertile?
Why would a woman who in her own words is among the "most well informed, privileged, and powerful on the planet,"* so readily submit to the supremacy of statistics when weighing her chances of getting pregnant. In a piece titled, The Whole House, she writes:  "At 36, I was already past the age when fertility precipitously declines."
Then in turn, why would the same patient/scholar (with a family history of serious illness) offhandedly dismiss the research documenting the potential ill-effects of routinely used gonadotropins; why would she disparage anything linked to patients' power to participate in their own healing. (Pg 72) "Rational, loving friends and family told me all kinds of unhelpful things: that a child I conceived through IVF would be more likely to have autism; that IVF would give me cancer; that I would be better off with acupuncture, herbs, or drinking more whole milk"
Whole milk might not be the answer, but a more whole-person view of impaired reproductive function can certainly affect the—need for and success of—treatment and protect both mother and child from harm. IVF and every other form of ART are fine choices, choices which as Boggs points out, expand childbearing options to single moms, members of the LGBTQ community or anyone else who opts for medical technology.
But Boggs' doctor's reductive view of her symptoms, which she seems to unquestioningly accept, may draw readers toward a similarly limiting view of their circumstances.
In such a limiting view, the imprint of injustices real and perceived, such as a childhood spent in and out of doctor's offices with a severely asthmatic sibling, has no bearing when assessing the obstacles to conception. "I can remember when they allergy-tested him, his skinny, pale back pricked and marked dozens of times, and how I coveted the marks (if not the pricks)."
To Hide or Not to Hide
I've written critical reviews before and received thank you notes for doing so. I thought, If only one person were to find my take on this book useful, that's a good enough reason to write it.
My options were to say nothing on Amazon, and to simply write a post for my blog. Preaching to the choir is safe but it's not an effective agent of change.
I could also post a review anonymously on Amazon. Not an option. Who would give credence to an anonymous review that challenged the views endorsed by every major publication?
I could use my Amazon Customer Username, Julia – FertileHeart or my name. In either case, both my name and my username have earned a certain degree of recognition in the twenty years I've been writing, researching and teaching about fertility.
The username would do, I decided.
Surprisingly, after all the publicity, no one seemed to have cared enough to post a comment. Well, I did. And I wasn't' going to cultivate the art of waiting for the right review so that mine wouldn't offend anyone.
Wanting to honor the quality of the writing, the author's dedication to the subject, but also to point out what to me were essentially  superficial—psychological   and political messages –I  gave it a one star rating, with that "unreasonable" headline, Poignant Memoir: Read It but Don't Let It Get You Down.
The Ambush
And all hell broke loose.
How could any "reasonable" person give a one star review to a book she deemed to be "beautifully written?" asked a woman I recognized as one of the author's relatives.
"Why don't you reveal who you really are, Julia Indichova?" wrote Richard A., Ms. Boggs spouse.
The fact that I posted my picture along with my review and a highly recognizable username didn't seem to be enough. All I was doing according to Mr.A. was competing for Amazon ratings, because according to this gentleman, my ratings plummeted after his wife's book was published. The fact that Mr.A linked the fate of our two books was flattering. I hadn't checked the ratings of either of my books in years, and I doubt that there was any connection.
The publicist who identified himself as Amazon Customer, and also didn't reveal his full name* actually posted a five star review, titled:
A Note on a One Star Review of Julia – Fertile Heart.
The sole purpose of the publicist's action was to describe my "deceptive behavior, ordering the review copy under false pretenses."   As if I needed any reason at all to request such a copy.
There were others. The tone of each attack was patronizing, accusatory.  It was fine for me to "turn my passion into profit" by selling "The Fertile Heart OVUM CD's,  but competing on this forum didn't "look" good.
What I said in my review "had no value" because "aren't there enough studies" showing how precipitously our fertility declines in our late twenties? Isn't there enough proof that IVF is far more effective than acupuncture and visualizations alone.
How presumptuous of me to suggest that there was any other way to look at Boggs' "luteal phase defect,' when, after all, they did try everything else. All other "alternatives, such as Letrozole and IUI's and acupuncture" during the five years prior to IVF.  (It wasn't long after I began teaching that I discovered that "luteal phase defect," Boggs' diagnosis is  one of the most common labels stamped in the woman's chart when the doctor is clueless as to why she's not getting pregnant.)
If there was anyone who validated the usefulness of my review, it was a woman who identified herself as Jaime:
Jaime chose this paragraph from my review as a centerpiece of her assault:
"In the 'Imaginary Children' essay, imagination for Boggs is not in the service of the possible, but, as in Albee's play, results in a self-punishing, cruel denial of reality. As I see it, people who long for a child are in relationship with an image. As painful as that relationship may be, it can also be a source of guidance, an aid in clarification of their desire to parent a child, a tool that can lead to profound insights. Such breakthroughs affect the entire human organism – and hormonal system – leading to conception and full term pregnancy."
After letting me know how poorly my actions reflected on my character, Jaime continued. "I read Inconceivable…I am all for meditations and positive thinking, and staying healthy through diet and exercise and supplements, but let's be real – if it weren't for Clomid and progesterone and IUI, my son would not be here. An "image of a child" leading to 'profound insights' sounds nice, but that also sounds a lot like blaming the individual. What happens to those men and women who never have a biological child? Were their insights not profound enough? Did they just not get that breakthrough?"
What's It All About
What Jaime didn't see, is how much her words validated my choice to do exactly what I did. To attempt to dispel the myths of the   holistic  mind-body approach to fertility amounting to not much more than "diet, supplements, and ambiguous positive thinking" which could hardly compete with the hard-core proven cure of fertility drugs.
What would Jaime say to the stories of Maria, and Louise and Anna and Katherine who used images and the ideas of the Fertile Heart philosophy to bolster their inner fertility authority, change the course of their treatment and the course of their lives.
How would Jaime and Belle and the jeering crowd respond to the stories of Denise and Daryn who entered our studio bearing the label of bereft "infertile women"  only to learn they were fertile enough to give birth to three healthy children without the help of medical interventi.
Or what would they say to the gorgeous moms who shared their egg donation stories, bowing to the miracle of modern medicine but not before fully claiming their role in shaping their treatment protocols.
What Jaime and Belle and the readers of The Art of Waiting might miss, is that this journey and the work we're called to do, has nothing to do with positive thinking, or supplements, or about voting for acupuncture instead of IVF.  It's also not about having a biological child, or adopting or choosing egg donation.
What matters, is that we seize the singular opportunity that comes when our child doesn't show up when summoned.
The stakes are far too high at this moment in history to give into bullies at the playground.
A few other ideas I have found worth challenging:
Free Training or a Glaring Conflict of Interests
It would've been enlivening to read in this book a far more critical view of RESOLVE, The National Infertility Association. Instead, we hear Barbara Collura, RESOLVE's CEO, lamenting that "Resolve's budget of $1.2 million a year, allows her to spend no more than about twenty cents on each of the 7.3 million Americans who struggle with infertility." To hear the author publicly raise the questions so many industry insiders around the world have raised in private conversations for years.
Questions such as: can a charity that relies on donations from IVF clinics and big pharma be an unbiased advocate for the patient's care? Is an organization that rates the fertility friendliness of cities— not by how clean the air and water supply,but by the number of fertility clinics—be serving public health? Is infertility really a disease best addressed by the big guns of IVF, or a symptom of myriad underlying causes that might respond to far less costly, less invasive intervention?
Who would dare to seek answers to such questions when Resolve frames its mission as a do-gooder fighting for "access to treatment of a devastating disease for wounded veterans?"
Without a doubt veterans and people who build their families through adoption and anyone else in need of assisted reproduction should have access to treatment. As long as they don't choose invasive procedures to sidestep symptoms of physical and emotional depletion and rob themselves of the opportunity that comes with every health crisis. With so many of the women I've met, insurance coverage for—lab tests that measure level of nutrients a fertility specialist isn't trained to assess, or insurance coverage for counseling addressing emotional issues that can hinder pregnancy—might have made IVF unnecessary.
In the essay titled Paying for It, we learn that "RESOLVE provides training to volunteers who want to start free, peer-led support groups; there are now more than two hundred groups in forty-six states, plus the District of Columbia…." Later in the same essay, we are introduced to  Candace.T. an African American woman/volunteer  who traveled from Los Angeles to D.C. for her first RESOLVE Advocacy Day. Ms. T. is in the middle of an IVF cycle—her ninth.  "I was pissed off," she says, when asked about her trying journey. "I wanted to vent at people. But anger is such an easy emotion to have."  We learn that for Candace and her husband, their search for an egg donor was complicated by race.
Is that the only reason Candace is pissed off? What about those eight failed IVF cycles? What about the study that showed that the ART cycles for women of color, even donor  cycles, have a much lower success rate than for Caucasian women?
What about all the women of color I have met who bought into the "infertility as disease" story and went through as many as 12 failed IVF cycles, ingesting truckloads of stimulants and never conceived. A scenario that has considerably increased their risk of ovarian cancer. Who is going to march for them? Who will train the volunteers of Resolve to be pissed off at the hand that supplies that basement meeting room, the coffee and cake, and the banners for their trip to Washington?  Which member of the Board of Directors of either infertility charity will dare to tell the real story?
A Blinding Bias
As much as scattered throughout the narratives we receive intimations of resistance to the "doctor" who tells us "he will get us pregnant," ultimately he, the doctor and his support team become Ms. Boggs' saviors.  When during her  visit to the lab, the bosa nova playing embryologist exclaims ' " I create life." I wondered, what her playlist looked like when  the  embryos  didn't make it to blastocyst. Did she hold herself accountable for all the failed cycles, or only for the live births?
"It took me longer to feel this way, but now I am empowered by ART…" writes Boggs and then later in "Paying for It:"I pay quarterly to keep my frozen embryos on ice and sometimes have nightmares that I've missed a payment or that they were accidentally thawed. Maybe Richard and I won't choose to have a second child, but I'm grateful that we don't have to make that decision immediately, that I can focus on my career and family while we figure it out. If our frozen embryos are part of a techno-utopia,I believe it is an empowering one. I'm lucky, and so are Facebook's and Apple's salaried, noncontract employees, who in addition to egg freezing receive fourteen to twenty-two weeks of paid maternity leave."
Technology can be a useful tool, but it does not, as Boggs asserts, empower us, unless we use it in an empowering manner.
Perhaps the most revealing of Boggs' blinding loyalty to the repro-technopoly is her attitude toward egg freezing. Commenting on the critical media coverage the 2014 announcement by Facebook and Google to cover the cost of egg freezing and storage for their employees, she writes: "These critics worried that women might fear choosing their own 'natural' time to have a child, at least until they reached a certain career threshold, and argued that both companies would better serve women and families by providing for work-lifebalance."
This is how the author responds to such concerns: "While it's easy to see how corporations benefit if some of their best workers delay childbearing, and while work-life balance is a crucial goal, it feels presumptuous to worry about these women, who are among the most well informed, privileged, and powerful on the planet."
What? I wanted to call out across the great divide. Belle,  you mean after five years of witnessing the irrational, self-punishing choices made by well informed, powerful women when they're infected by the collective hysteria of the last good egg, you think this is what we should encourage young healthy women to do? Subject themselves to invasive procedure that offer no guarantee whatsoever that their frozen eggs will yield a child?
Is that the world you want your daughter to inherit? A world of landfills of syringes, and storage tanks filled with test tubes and liquid nitrogen? You, someone who is moved by the sight of "pink and orange sunsets and the cool white sand of beaches?"
Tragically The Art of Waiting shows us the lifetime value of an IVF patient who sleepwalks into the arms of a false friend.  A friend,  who, to paraphrase the late cultural critic, Neil Postman, "asks for trust and obedience because his gifts are truly bountiful. But of course, there is a dark side to such a friend, the  gifts are  not without a heavy cost."
Unless more patients and doctors risk voicing unwelcome truths, the earth-community has yet to see the immense environmental impact and healthcare costs of the rising number of the egg freezing boom, and politically correct marches that provide a steady stream of "patients for profit" to the baby making industrial complex. A dubious legacy for Belle Boggs' baby girl, my daughters and the not-yet-born generations of children we so fervently long to bring into the world.
Here is  a link to the Amazon review.